When buying a car, many factors are play an important role. Apart from brand, model and design, a car's equipment is also an important factor for the customer, who is looking for comfort and - above all – safety.
Meeting all these requirements without ever losing sight of the costs is a great challenge for many system suppliers and OEMs.
New directions in hardware testing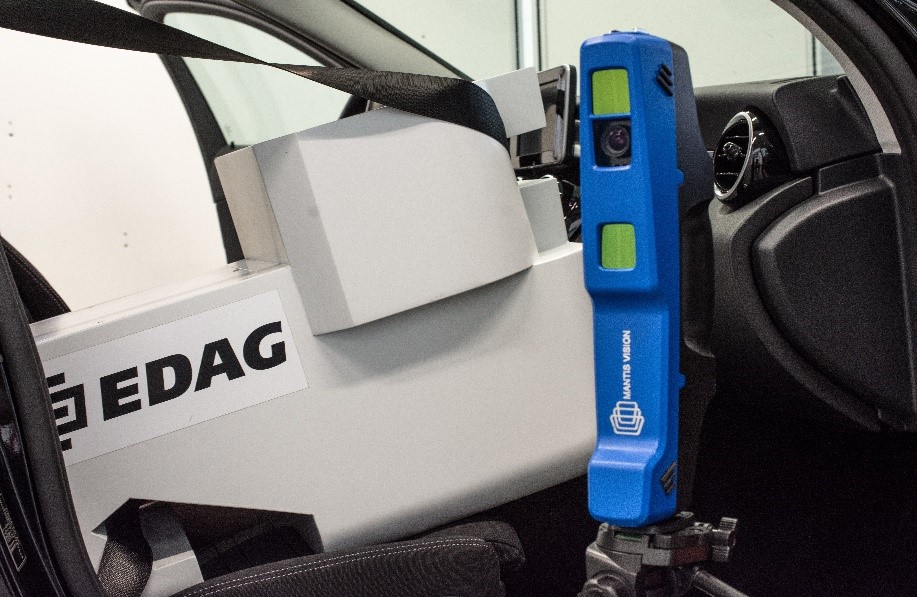 In practice, it frequently proves difficult, if not impossible, to measure and document geometries or clearances with conventional measuring equipment. At EDAG, we therefore use a mobile 3D scanning process in some areas of hardware testing, and in this way have been breaking new ground in vehicle safety for several months.
Ensuring the safety of children in cars is extremely important. For this reason, we tested the handling of our new mobile scanner during installation inspections on the EDAG's own test dummies and our top pick list child seats in child safety, and were successful. EDAG has numerous child safety test dummies of its own (i-size, R3, R2, F3, F2X, etc.), as well as all the child seats in EuroNCAP's top pick list.

Based on the knowledge gained in our tests, the 3D scanner will now also be used in numerous other areas.
How does the 3D scanning process work?
The hand-held 3D scanner can be used to scan any object at all, and therefore digitalise it, in just a few minutes. This type of object scanning offers various advantages, but also new possibilities compared to conventional measuring systems. For example, sectional views can be created, as can clearances or dimensions in places that are actually inaccessible when using conventional measuring equipment. In addition, the scanned objects can be implemented in existing CAD assemblies. In this way, various examinations can be carried out by digital means from the workplace.
What is the 3D scanner suitable for?
The digital acquisition of scanned objects offers various advantages and new possibilities:
Measurement of distances in places that cannot in practice be reached using conventional measuring equipment
Subsequent acquisition of dimensions inside the CAD mode created
Creation of sectional views
Implementation of scanned objects in CAD assemblies (e.g. integration of a scanned child seat into the CAD model of the vehicle interior)
The 3D scanner can therefore be used in a wide variety of areas of vehicle safety.
Child safety: installation testing of test objects in the vehicle interior
Complete vehicle testing: Euro NCAP analysis of an MPDB barrier
Passenger safety: scanning of dummies in the vehicle – seating position, out of position
Accident research: scanning the vehicles/the accident zone
Child safety example – "Gabarit" test dummy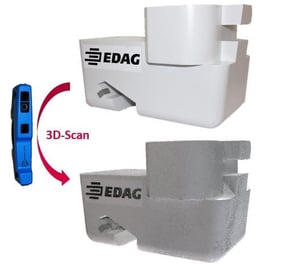 Depending on the geometry and size of the object to be scanned, different versions of the scanner are used for the near and far range. These allow both an accuracy of up to 0.1 mm at close range and the scanning of large objects or whole areas. This means that the 3D scanning method can be used flexibly in a wide variety of areas.
If you too have a field of application for the 3D scanner, or need more information, then Ingo Jatzek, our team leader for vehicle safety, looks forward to hearing from you.