Automated guided vehicles (AGV) have become an integral part of our modern logistics. Making orders from high rack warehouses available in time for production? Keeping the logistics in hospitals up and running? Regardless of the industry – automated guided vehicles facilitate the material flow immensely.
In order to meet the constantly increasing demands of logistics, many companies would like to use automated guided vehicles in the future. Maybe you too? However this technology is neither a miracle cure nor easy to use. Careful planning is essential so that an automated material supply system can perhaps also revolutionize your intralogistics.
Early detection of dissonances – EDAG Production Solutions makes it possible
Let's take for example the modern production of an OEM that is converting its plant to the drive system of the future so that the latest e-mobiles can later roll off the assembly line. In order to cope with the increasing number of variants and the resulting growing complexity of logistics, logistics planners in body construction and assembly increasingly rely on automated guided vehicles (AGVs) to transport materials to the line.
If you want to conduct this orchestra of about 300 autonomous and manual vehicles, they must be precisely controlled and coordinated with each other. As with a real orchestra, each performance is precisely defined.
To plan this perfect interplay, the EDAG Production Solutions process simulation team accompanies these and other customers from a wide range of industries, all with very different requirements of the transport system.
Perhaps you too have already thought about the introduction of an AGV and found yourself in uncharted territory in the face of many difficult questions:
How many AGVs do we need and what will be the workload of the overall system?
How many battery charging stations are necessary? And where can they be placed?
Are the main transport routes congested?
Can I take over my one-way street control?
How many transfer stations and forklift trucks do I need at the AGV station?
What influence do manual transport processes and disruptive traffic have on the AGV?
Do the control strategies offered to me by the AGV supplier work?
Which parts of the system are critical to supply?
We, the simulation experts at EDAG Production Solutions, are on safe ground when it comes to such topics. With the help of a dynamic simulation model we can answer these questions together with you and find the best solution for the use of an AGV.
Secure the planning of automated guided vehicle system with a simulation
All material flows and processes are displayed in a 2D or 3D model and can be extended at any time. Once the route network, stations, demand locations and the control system have found their way into the model, the planned supply concept can be systematically analysed.
The logistical processes are traced in detail and put through their paces. Open or unclarified processes can be temporarily abstracted and refined at a later date. Planning alternatives mature and find their way into the planned logistics concept if the results are convincing. Discrepancies during the "digital implementation" become visible at an early stage and can be addressed together with you, so that expensive error corrections can be avoided during implementation.
Finally, all your questions are answered and you gain experience and know-how in handling your complex system at an early planning stage. This would be unthinkable with static planning using classic Excel tables!
Bring reliability and efficiency to your transport tasks with us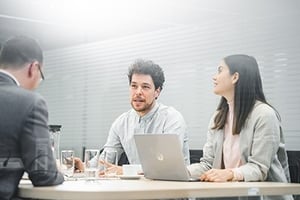 If you also want to use a driverless transport system in your company, then get to know your future system in advance! Our process simulation experts will introduce you to each other and give you a feeling for the necessary number of vehicles and sensible control logic. This means that you are ideally equipped to negotiate with AGV suppliers on an equal footing or, as a manufacturer of AGV systems, you benefit when advising your potential customers.
You would like to know more about the simulation of logistics processes and their advantages for your company? Martin Peters, Team leader process simulation is looking forward to answering your very specific questions.