In the traditional vehicle world, engine technology is regarded as one of the vital unique selling points of a vehicle manufacturer. Key vehicle characteristics are derived from the power unit, which is also a central element of value creation. In an electrified, digital vehicle world, it is no longer the combustion engine or electric motor, but the battery cell and the associated management software that constitute the key technologies from this point of view. This represents a challenging transformation for established OEMs; however, there is no lack of support.
The struggle for the climate will not simply stop at the automotive industry! Government pressure to reduce carbon dioxide emissions has triggered massive change. A number of established manufacturers plan to pull out of internal combustion engine development in the course of the current decade; it is expected that, by 2035, only sales of zero-emission vehicles will be permitted in Europe, and there are similar plans for other parts of the world. Manufacturers are now focusing on battery electric vehicles (BEVs).
The Battery Changes the Auto World
The strong position of the German automotive industry is very largely based on innovative strength with regard to the internal combustion engine. Research and development and the production of gasoline and diesel engines always remained a central task of the OEMs, while many other elements of vehicle construction were outsourced to suppliers, enabling extensive know-how to be built up over decades, and so ensuring competitiveness. This is because the engine is not just a major cost factor, but also a key element of value creation for manufacturers. In-house engine production made a significant contribution to margins and brought about advances in knowledge of engine construction, which in turn flowed into further development.
At the same time, the powertrain defines essential characteristics of a brand: vehicle dynamics and driving comfort, reliability and life cycle, not to mention emissions and fuel consumption - at least in the "old" vehicle world. With "BMW" – Bayerische Motorenwerke [Bavarian Engine Works] – the great importance of engine development is revealed in the brand name itself.
Under the conditions of an electrified and digital vehicle fleet, however, many of the previous premises no longer apply. The unique selling proposition of a BEV cannot simply be reduced to its motor; the entire battery electric system needs to be taken into account. Because vehicle dynamics and maximum speed, range, consumption and product life depend less on the motor than on the battery or the properties of the battery cells, and on the effectiveness of the energy management system. What is more, the battery is the greatest cost pool, and therefore a significant factor for the margin of vehicle production. The entire battery represents the largest share - some 35 to 40 percent - of the value created by the electrically powered vehicle, with the cell itself accounting for the largest proportion of the cost of a battery: namely some 60 to 70 percent. Based on this component, the optimization potential in terms of cost reduction and margin improvement for the vehicle is also correspondingly high.
Many suppliers have now realized this, and are starting to add to their own battery cell expertise. Porsche, for instance, is investing in its own battery cell production plant in Tübingen, while Opel parent company Stellantis (previously PSA) and Total subsidiary Saft have together created Automotive Cell Company (ACC). BMW plans to bundle cells from the Chinese company CATL, in which the Bavarians have an indirect stake, into cell modules in Leipzig, and is also part of a consortium for setting up European battery cell production. With a Battery Cell Competence Center, the Munich-based company is also pressing ahead with its own battery cell research. VW is cooperating with Northvolt in the production of its own battery cells, and also in development and research at Volkswagen's own Center of Excellence. And Daimler has established a wholly owned subsidiary for battery production - Deutsche Accumotive - and a Cell Technology Center to carry out cell research.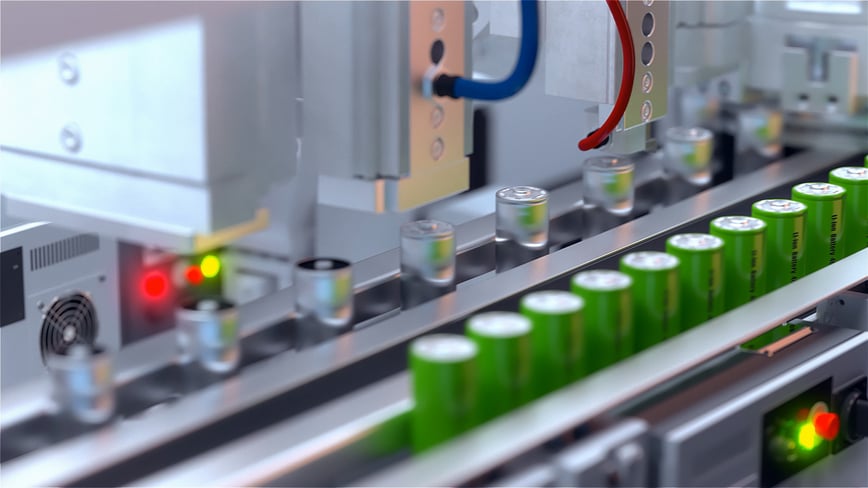 A great deal of effort and investment by manufacturers will be called for before lithium-ion battery cells can pass through the production line.
Immense Research Requirements
The rapid transformation of the automotive market towards BEVs, which is expected to take place in the next five to ten years, is triggering enormous investments in research and development: from cell chemistry, electrode design and structural cell shape, to packaging design - including geometry and thermal management - and energy management. The latter influences not only power consumption when driving, but also the function of the other electrical power consumers, energy recovery and charging processes. It will not be possible, for example, for the air conditioning of the interior to be taken in isolation from the thermal management of the battery. However, this close integration is only practicable if the development is largely in the hands of the OEM, and the components are not simply bought in.
In this respect, vehicle manufacturers might possibly pursue two different strategies for battery equipment in the future: BEVs for the mass market will be equipped with mass products based on a cheaper cell chemistry such as LFP, for instance, while the premium brands will use performance products offering a clear added value with a more expensive cell chemistry such as NMC, in this way providing distinctive differentiating factors. Range, vehicle dynamics, maximum speed, driving comfort and product life and he (rapid) charging capability of the vehicle, and finally even the question of how much space is available in the interior or trunk – all are all aspects that depend on the battery or battery cells. A premium strategy that requires best-in-class performance on these points forces automakers to take an in-depth look at development and manufacturing to get the battery cells that work best for them.
On the other hand, anyone opting to simply purchase cells or batteries runs the risk of losing specialist knowledge, expertise and innovative strength, and of becoming dependent on suppliers for a crucial component – in terms of specifications, prices and the ability to deliver. In view of the current situation with repeated supply chain disruption, this aspect should not be underestimated.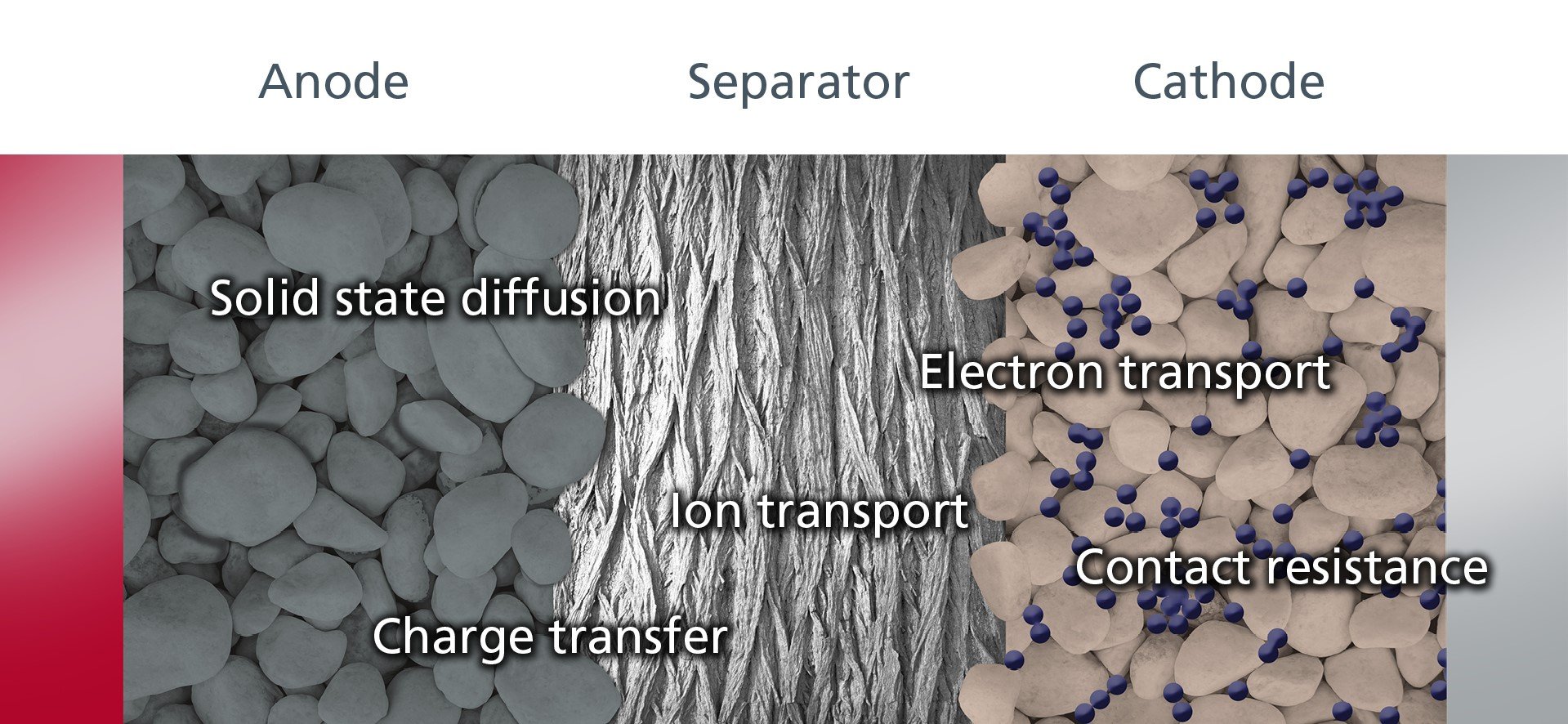 Representation of the microstructural structure of a lithium ion cell. In-depth technical knowledge and, above all, experience are necessary to be able to understand the properties of a cell and its internal processes, for instance aging mechanisms and loss processes.
Multi-Level Support
EDAG has extensive knowledge of and experience in battery system design and integration. This approach has enabled the company to build up extensive know-how in numerous areas including the specification and testing of battery cells. With its own cell test stand soon to be put into operation, EDAG will in future be able to carry out a wide variety of test series. For example, specifications of a cell manufacturer can be checked and own driving or fast charging profiles can be run, peak current tests or swelling investigations as well as lifetime tests can be performed. In combination with temperature and climate chambers, each cell can thus be characterized both electrically and thermally and analyzed for its long-term performance under various ambient conditions.
The knowledge gained in this way will be used to assist OEMs with the development of battery cells, to present performance comparisons, and to validate and further improve our own battery cell simulation models. Among other things, EDAG's own simulation models can be used to calculate the chemical and thermal expansion of the cell and the resulting increase of cell pressure within the module, thus contributing to the optimum design of battery cooling and cell mounts. By coupling a mechanical and an electrical model, it is also possible to simulate the mechanical load on the battery cells in the event of a vehicle crash, and in this way detect possible short circuits. With this knowledge, BEV battery frames or battery modules can be designed so that their weight is optimized.
The complementary skills of simulation and testing or theory and practice enable EDAG's experts to provide OEMs with information on which decisions concerning the development, design, integration and validation of batteries and battery cells can be based.
In addition, EDAG already has experience in the development of electrical energy management (EMM) solutions, and follows a system-based approach here, integrating both the vehicle's hardware and software and the environment into the energy management. This combines many different aspects, each of which, if taken and optimized separately, would not lead to a useful overall solution.
This includes recording the discharge currents and calculating the remaining range, as well as shutting off high-energy power consumers when the battery charge drops below a critical level. It also involves considering the hardware, with capacity, current carrying capacity, temperature limits and other physical parameters, and also thermal management. However, all-round software-based control of the overall system will in the future extend the system's limits far beyond the vehicle, when, for instance, traffic and weather data, the availability of charging stations, or offers for renewable energy are also included. The concept also incorporates pattern recognition, cloud connectivity and the use of a digital twin down to battery cell level. This enables battery performance and longevity to be determined and predicted with greater accuracy, because even though the cells are specified, the cell producers do not always disclose data relating to their long-term behavior in full.
If you have any questions on the subject of battery cells, talk to Dr. Andreas Stoll, lithium-ion storage cell developer in EDAG's eDrive & Battery IN department. Or download our white paper "Energy Management 4.0" now.