As a result of increasing electromobility, vehicle manufacturers and suppliers are facing new challenges. New materials with as low a CO2 footprint as possible need to be processed using innovative production methods such as additive manufacturing and digital development tools.
The heart of an electric car is its battery
The heart of an electric vehicle is its battery, which serves as the energy source for the powertrain. It is composed of interconnected battery modules, and these are made up of battery cells. These cells are based on lithium-ion technology, which has a high energy density and therefore a long service life, which in turn makes a large number of charging cycles possible.
There are a number of major challenges to be solved during production of the battery. To master these and find fully developed solutions, the automotive industry is working with battery producers and machine and plant manufacturers to find the answers to all questions relating to battery performance, service life and cost optimisation possibilities, and serve the rapidly growing market.
Anyone wanting to build electric cars needs not just motors, but also storage cells for the electrical energy. Since the demand for electric vehicles is currently constantly increasing, and therefore offers great potential for large sales volumes, it is without doubt a wise decision not to purchase these batteries from other suppliers, but to develop and manufacture them one's self. This creates the kind of know-how necessary to gain a technological competitive edge.
In addition, materials that are difficult to process and sometimes extremely dangerous are needed for the production of lithium-ion batteries for electric vehicles. This requires expert knowledge and innovation, both of which can be contributed by EDAG Production Solutions. For OEMs and, of course, also system suppliers.
Partnership of equals
After a prototype for a lithium-ion battery for electric cars had been developed, we, as partners to an automotive company, were authorised to plan the entire production and also handle implementation.
EDAG Production Solutions has a very good reputation as factory and production planners with international OEMs. However, there were a number of reasons why EDAG was chosen.
The main factors here were the following competencies and skills :
Fully integrated factory planning: Development of production, the building and the entire infrastructure
Cooperation of a wide variety of departments in the project:
1. Product Development to ensure production-oriented product design
2. Involvement of implementation engineering employees for design and simulation
3. Involvement of body manufacturing and material flow simulation employees
Utilisation of our years of planning expertise from industrialization and optimisation projects in the field of chassis and drive components
Special knowledge of the joining technologies required for battery production
Factory planning methods such as value stream design and potential analyses
Unusual materials, special measures
The planning for this project was no ordinary challenge: lithium in its metallic form is a highly flammable material that begins to burn as soon as it comes into contact with normal air (at temperatures above 1,000 degrees Celsius). On top of that, some of the materials used are highly toxic and the batteries deliver high currents at high voltages: all of which makes special safety precautions in production essential.
For both the customer and EDAG, the production of lithium-ion batteries was at that time still uncharted territory – in terms of both manufacturing technologies and manufacturing standards. Despite this, we were still able to rise to the challenge, as our large pool of excellently networked experts and engineers from a wide range of technical fields and the enormous experience we have acquired in 40 years of industrialisation and engineering mean we have the know-how to master such projects.
Since the customer had no battery production facilities at the time, planning itself began with a "sheet of white paper". As a general contractor and production planning company, however, we have ample experience in setting up new production plants, and so were able to draw up the concept plan very quickly, and then validate the various concepts. The advantage for the customer: investment security was quickly achieved, and it was possible for the planning of the new factory and production to be started and implemented on schedule.
The same applied to implementation: the plant constructor was able to set up and commission battery production for the customer on time – without having to adapt our planning documents in any way whatsoever. We are particularly pleased to note that the customer is now already producing the next generation of lithium-ion batteries. This shows that a customer who was very impressed by our achievements has succeeded in securing an excellent position in the growth market of electric mobility with the production of rechargeable batteries.
With expertise and know-how, even new territory can be conquered
Even when it comes to technologies that are still uncharted territory for EDAG Production Solutions, our expertise and know-how in production planning and industrialisation enable us to achieve excellent results that immediately prove their worth in practice. Since our project engineers work in a highly networked environment, this results in innovative solutions for production – not only for the automotive industry.
Do you have a similar application or would you like to talk to our expert, Robert Wilschrey, Deputy Head of our Assembly Planning Client Team, about the future – namely eMobility? Then please contact him.
Our SCALEbat – a modular and scalable battery housing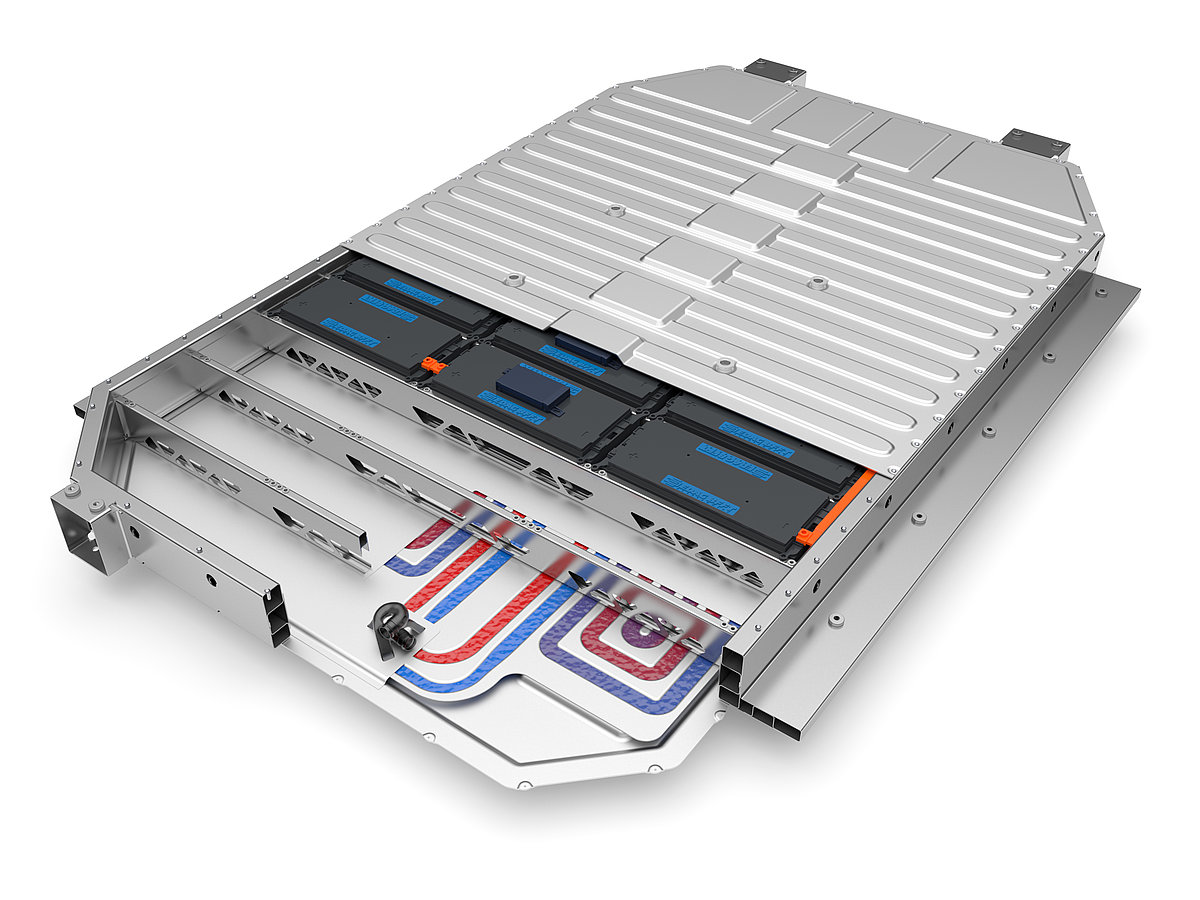 Are you curious about what new territory we will be setting out to conquer next? We already have something new: the SCALEbat. The scalable battery housing helps car manufacturers and startup companies to develop flexible and economical electric vehicle floor assemblies, and provides an excellent starting point for new cooperation projects, research and development. Its scalability is not the only outstanding characteristic of SCALEbat. It is also an ideal means for the structural integration of various battery systems. The intensive use of steel roll-formed profiles for the frame structure of the battery housing results in enormous savings potential, especially where large quantities are involved. Here, too, Robert Wilschrey will also be happy to answer any questions you might have.
Would you like to know more about e-mobility and EDAG's solutions? Then you should definitely read the white paper "Energy Management 4.0 for Electric Vehicles" by our expert Benjamin Mangold. In it, he reveals the approach EDAG is pursuing and the role that adaptive algorithms, cloud connection, pattern recognition and the digital twin of the battery cells will play in the energy and load management of the future.
Download our free white paper now!