When a car is being bought in Germany, the most important criteria are not so much innovative technology or styling, but rather reliability and above all safety. This applies in particular to the second row of seats, which is where children often sit. For vehicle manufacturers, this is an enormous challenge, as there is a wide variety of child seats on the market, and the success of a new vehicle is influenced not only by legal requirements but also by the Euro NCAP test ratings. EDAG supports OEMs in this respect, with innovative 3D scans and simulations to help keep development costs low even when the most stringent safety requirements apply.
Accidents occur suddenly, especially for small children who are often miles away with their thoughts, and are not constantly watching the road. The child seat offers additional safety: it supports the child's anatomy, positions the seatbelt correctly, and also provides additional head protection in the event of accidents involving side impact collisions.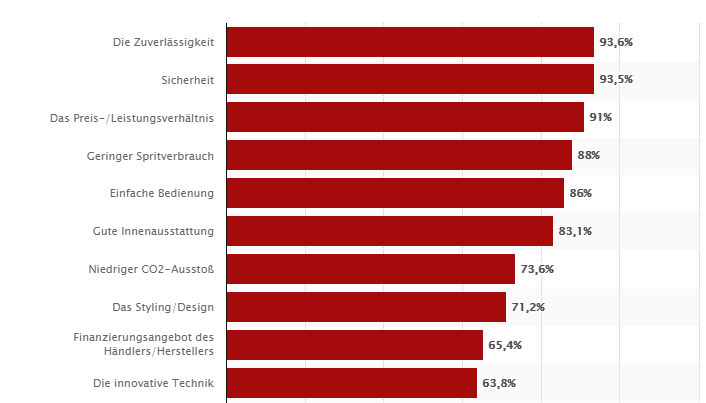 Source: Buying a car - the most important purchasing criteria in Germany 2020 | Statista
But the car itself must be properly designed if complete protection is to be ensured. If, for example, the rear door or roof frame is too close to the child seat, the child could be injured in a side impact collision. Similarly, the hard contours of the front seat must not come too close to the child, to prevent head impact in the event of a crash. As children are not as robust as adults, they must not be subjected to the same accelerations. Designing child restraint systems for a wide range of ages and weights is an especially difficult challenge, as children tend to grow out of their systems relatively quickly. For these reasons, too, legal requirements have gradually been amended and tightened in the course of the last few years.
Ratings and legal requirements
As car buyers in Germany pay special attention to safety, not only compliance with legal requirements, but also the safety ratings of renowned institutions such as Euro NCAP are of particular importance. Poor ratings almost automatically lead to lower sales figures.
For its tests, Euro NCAP uses child dummies the size of 6- and 10-year-old children. The child restraint systems used are selected from the top pick list consisting of 10 representative child seats. Euro NCAP randomly selects the seats for the crash tests. OEMs must therefore ensure that all child seats fit perfectly on the rear seats of a vehicle, and offer maximum safety.
Legally specified test bodies are used to check whether all child seats can be installed and have sufficient space. These occupy the amount of space that must be available to accommodate the child seats. In reality, this can be done using a prototype, or also on the basis of CAD data.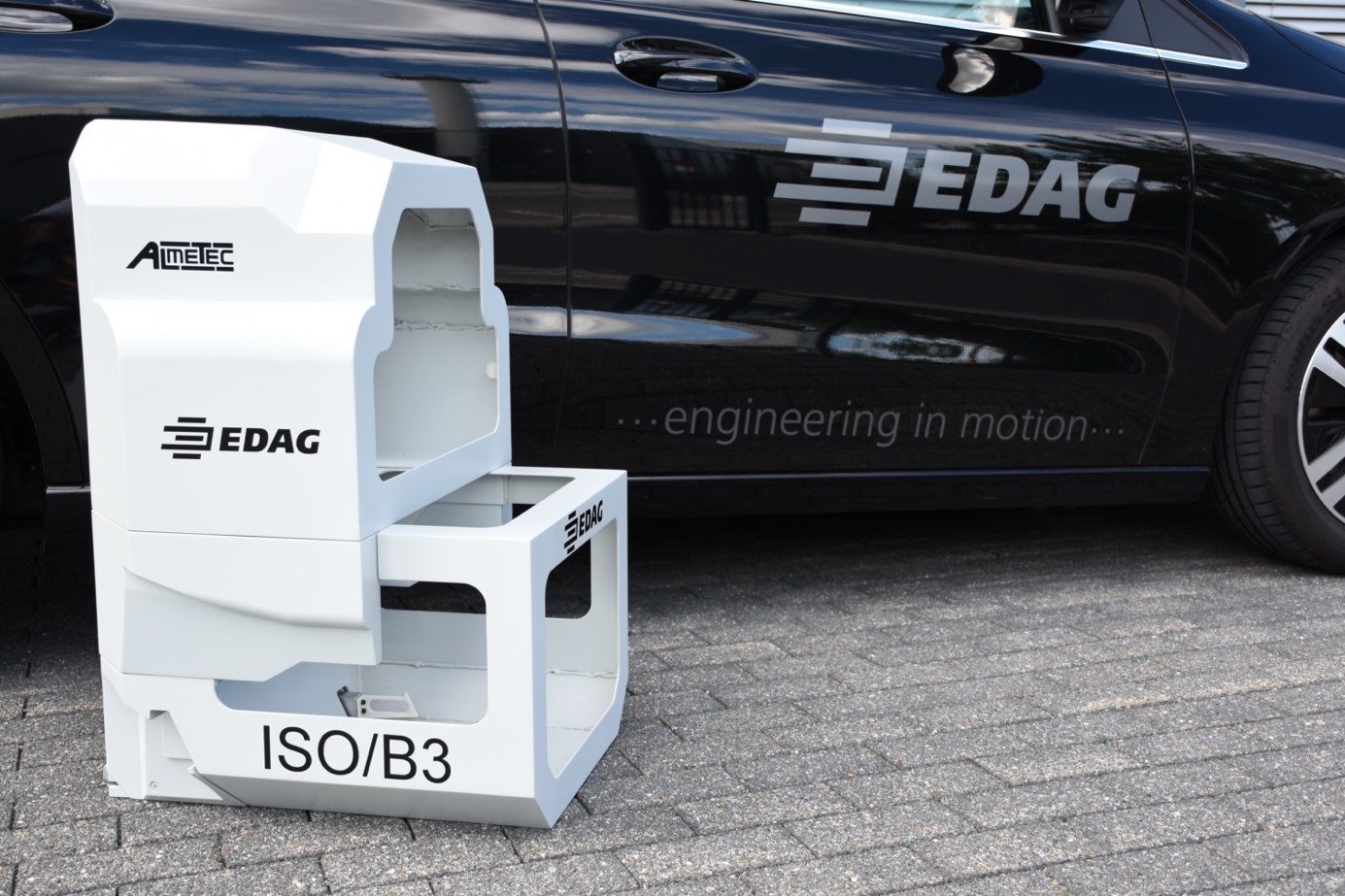 A test body takes up the amount of space that must be available to accommodate the child seat and the child.
Automobile development assistance
The special challenge when developing the restraint systems is to ensure that all interface areas such as door trim development, headrests and the legally compliant design and positioning of ISOFIX brackets and top tether anchors are incorporated. This often has to be done during the development phases, when a prototype of the vehicle is either not yet available at all, or only for a short time, and development is CAD data-based.
To assist the OEMs in the development of restraint systems, EDAG uses innovative 3D scans which record the full extent of the actual interior of a prototype and transfer this to the CAD system for subsequent comparison. This means that car installation checks are possible, even if no test vehicle is available.
Our services at a glance
Static child safety
Car installation checks with legally specified test bodies and selected child seats taken from the Euro NCAP top pick list. These tests can be carried out both virtually (on the basis of CAD data) and in prototypes. Different test bodies are used.
Measurement of the interior, including test body, by means of 3D scan and feedback of the hardware data acquired into standard CAD systems for a virtual car installation check.
Legally compliant design and positioning of ISOFIX brackets and top tether anchors, including the appropriate layout and stiffness calculation.
Checking the distances between peripheral components such as door trims and headrests, and developing suggestions for optimising safety.
Assistance with working our measures for vehicle series using identical components (for instance door trims).
Dynamic child safety
Passenger safety calculations and design of restraint systems on the basis of CAE data.
Crash tests: we take over the planning, performance and evaluation of the crash data from slide and full vehicle crash tests.
For evaluation purposes, the crash data is transferred to standard calculation programs and then used to develop optimisation proposals and measures.
With our measures, our customers can guarantee optimum NCAP crash performance for all child seats used by EURO NCAP.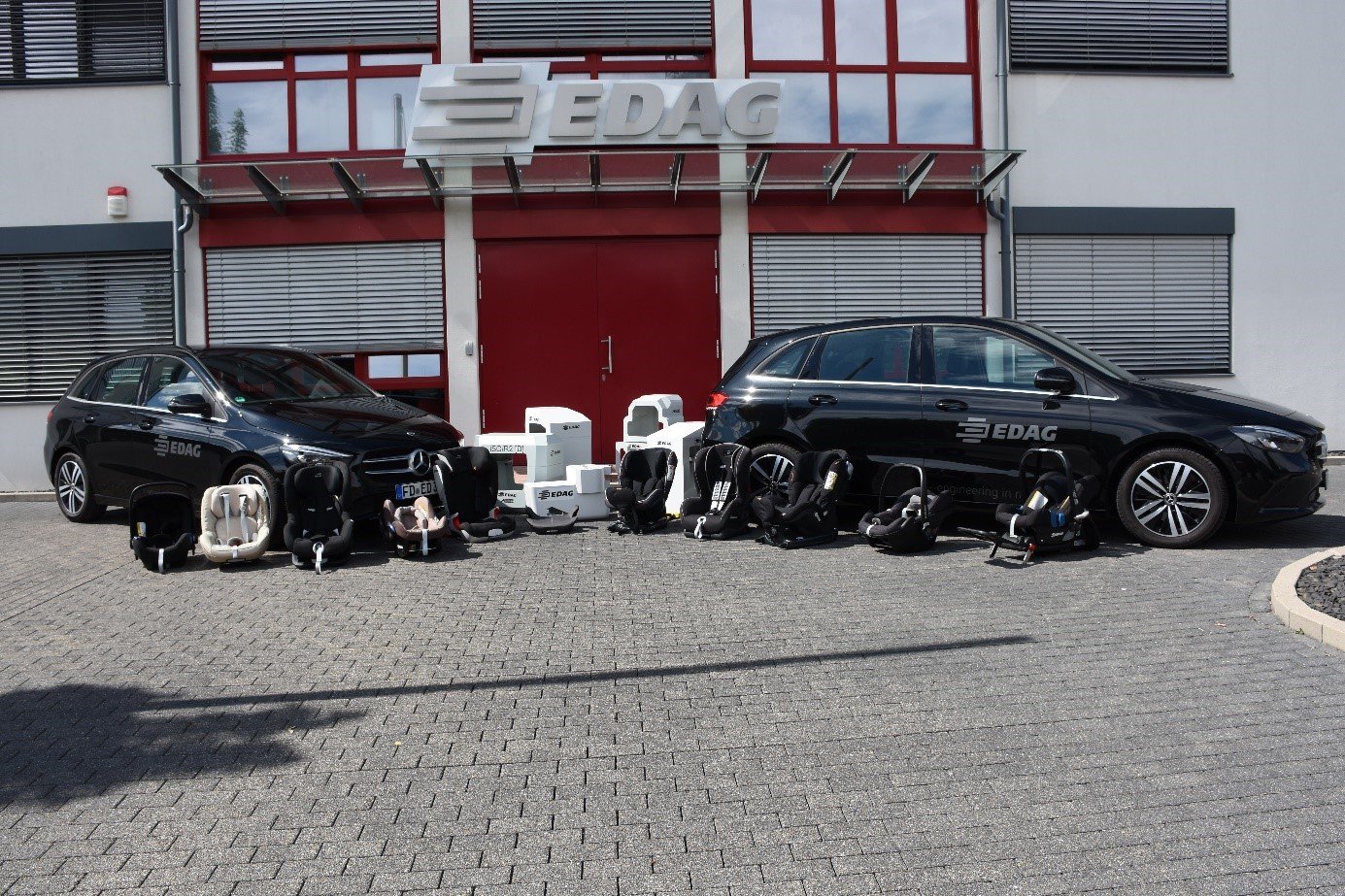 At EDAG, we are able to install and test not just the test bodies, but also all standard child seats from the Euro NCAP top pick list. In addition, as part of the "RegScha" joint research project, we have developed a seat shell for a child car seat in composite construction that meets the high structural and safety requirements. Read more about this in the Use Case Regenerative Seat Shell: "RegScha".
Further information and downloads
Do you need assistance with the optimisation of child safety in vehicles? Ingo Jatzek, our vehicle safety team leader will be happy to discuss any questions you might still have and show you the advantages of single-source hardware testing and calculation. Contact us at kisi@edag.com.
If you are interested in finding out which test bodies, test equipment systems and child seats are used in the tests and optimisation calculations, you can download our latest review "Test equipment and child seats". This will give you an overall picture of the many aspects that need to be taken into account when developing the safety systems in vehicle.