Our world is more complex than ever before. It is volatile. Unpredictable. Constantly changing. In order to be able to react quickly to these changes, a high degree of flexibility is required. Previously proven models, experiences or conditions are from now on challenged to the test bench. So, today we are continuing to experience an evolution, are forced to rethink and have to adapt to new situations. This includes our mobility. Closed-loop engineering offers EDAG agile but automated development processes, the optimisation of interfaces in order to be able to react flexibly and, above all, quickly to the mobility evolutions of today and tomorrow. This is made possible by bundling competences and developments of our various divisions, which enables us to cover all the necessary building blocks for the development cycle and to continuously adapt our mobility concepts to the new requirements and further develop them based on real data.
The way we move will have to change significantly more and faster in the coming decades than it already has. More and more people are living in metropolitan areas, where increasing emissions, noise, congestion and overcrowding are becoming a burden on people and call for new mobility concepts.
The EDAG CityBot easily meets precisely these challenges of tomorrow's mobility today. As a networked, autonomously driving robotic vehicle that can be adapted to all conceivable mobility, transport and work situations in urban or industrial areas for various areas of use through utility modules such as trailers and backpack modules, it becomes a flexible, efficient but above all holistic component of the smart city. Either for passenger and goods transport, or for services in the field of security and urban maintenance.
As part of sustainable mobility, it can be used wherever precise processes and cycles must ensure increased efficiency and the reduction of emissions. In addition to the city, there are other fields of application, such as logistics centres and airports, in which the EDAG CityBot offers enormous advantages through the automation of processes. However, these have different requirements. In the logistics centre, for example, the EDAG CityBot has to use far fewer modules, while in the city it experiences a variety of different loads due to steep gradients, heavy trailer modules and longer distances. In addition, the mobility needs and temperatures differ fundamentally for example between Barcelona and Helsinki. Specialising the EDAG CityBots and their components to the operating environments therefore offers enormous potential for increasing efficiency. For example, the logistics centre CityBot can be much lighter and use smaller engines than the city CityBot.

Different fields of application place the most diverse requirements on the EDAG CityBots. Thus, the optimal design of the wheel carrier is different for each area of application.

This means that an optimal wheel carrier looks different for every area of use. However, this only works if we take the specific fields of application into account and generate highly efficient and specialised new EDAG CityBots once again using the data that the CityBot provides us with from its operations. In order to additionally keep the development costs for adapted CityBots or a new module low, new methods such as generative design are applied. In this way, an automated, continuous development process - so-called closed loop engineering - can be established. Components are precisely tailored to loads and areas of application.

The Closed Loop Engineering process consists of three main parts:

Live data acquisition
Automated optimisation
Flexible production
At EDAG, all the necessary competences for this holistic approach are perfectly intertwined: the expertise in complete vehicle development and validation, the know-how for digitalisation, software development and also our experience in implementing production solutions. How?
Closed-loop engineering: The result is the perfect interaction of reliable data.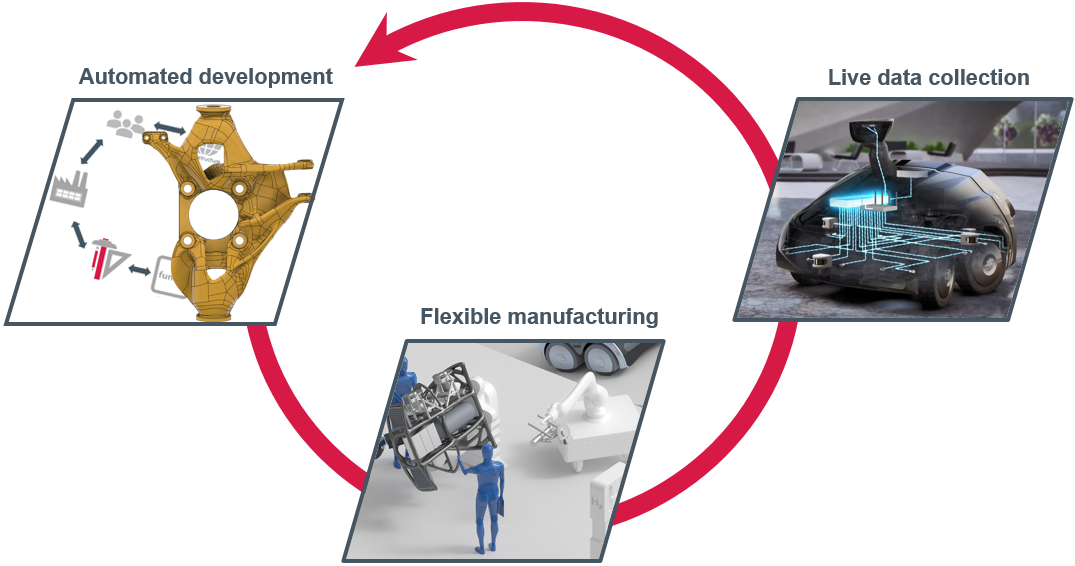 The EDAG CityBots continuously collect data about their daily usage, loads and their surroundings. Regardless of whether they transport goods from A to B in a logistics centre, are responsible for the delivery of on-board catering for passengers and crew at large international airports, or are to be available as a taxi after an event in an urban environment.
We can read out, evaluate and process this vast amount of data thanks to the ED::MEDAAN Software. It is a complete measurement data ecosystem for the high-performance, scalable and cost-effective analysis of vehicle measurement data. Despite the enormous amounts of data, this technology significantly shortens evaluation times and gives further and new developments of vehicles or components more speed and intelligence in the provision of data, which we urgently need if we want to react agilely and quickly to changes.
In the next step, we will use Generative Design for the automated optimisation of components. By using software solutions such as Autodesk Fusion 360, we can implement development processes in an agile and automated way, which in turn brings us speed. By specifying various parameters, such as load, manufacturing process or material, we obtain the perfect component for the respective area of application. If the boundary conditions change, resulting in new load cases, these can always be readjusted in an automated optimisation process based on the development automation.
In the application we show you in the video, as part of a cooperation project with Autodesk based on the digital twin of the CityBot and its environment, we dealt with the various system levels, such as the body, interior and chassis and, in our specific case, used a wheel carrier to set up a closed-loop engineering process. Generative design is used to continuously create improved designs and analyse them using software such as Netfabb. These improvements can lead to completely new parts or to small changes such as thinner wall thicknesses.
EDAG Production Solutions flexible manufacturing solutions can produce the ever-changing EDAG CityBots. Our experience and solutions in the environment of the Smart Factory, but also for digital twins, the Internet of Things, help in the realisation of production approaches for cost-effective and process-oriented manufacturing. Tool-less manufacturing methods such as CNC milling, turning, bending, laser cutting and additive manufacturing, as well as fixture-less joining processes are an essential part of the CityBot's flexible manufacturing solution.
Finally, thanks to flexible manufacturing, the lighter or more durable wheel carriers are installed in newly produced EDAG CityBots, or EDAG CityBots already in operation receive an update due to their changed tasks, loads, etc. in order to be even more efficient.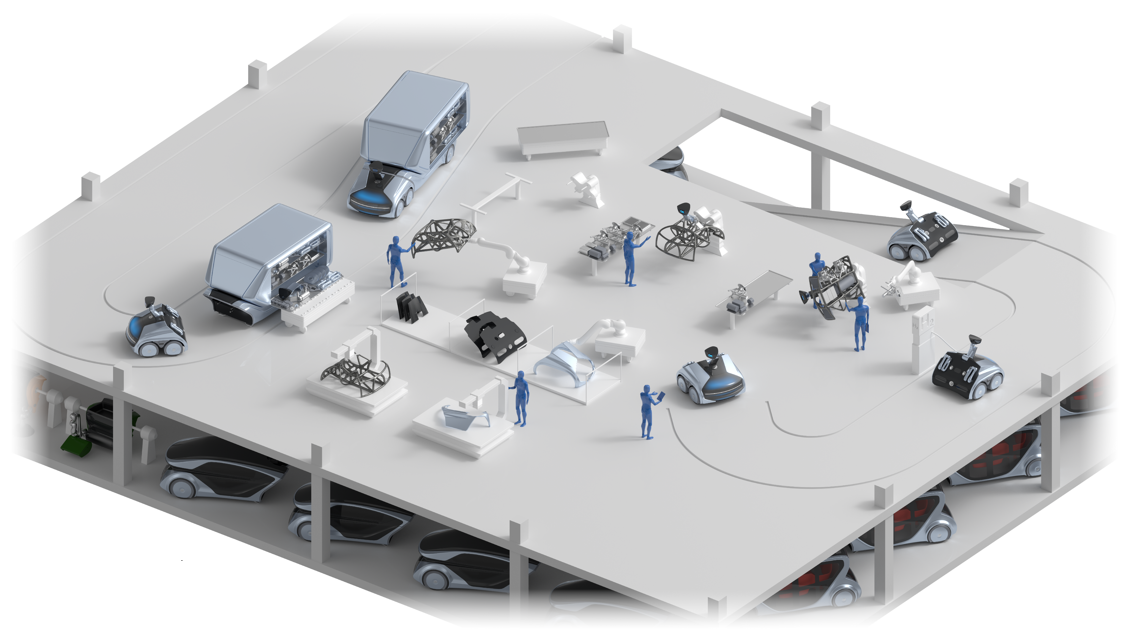 Flexible manufacturing solutions enable the production of constantly changing CityBots.
By collecting new data for the updated parts or CityBots, the cycle is closed and the automated process starts again. This allows EDAG CityBots to continuously adapt to changing mobility needs and requirements. Like living creatures in nature, technical products can now also continuously develop further - a technical evolution is achieved.
In contrast, car manufacturers and development service providers for conventional vehicles today make many different assumptions, rely on empirical values from manual field studies and analyses of previous models after long running times. Due to long and usually rigid development cycles of three to four years, an OEM cannot react spontaneously to changes, requirements or trends in the market. In addition, a vehicle usually has to fulfil requirements from very different markets at the same time. Specialised variants are avoided for reasons of cost and excessive development effort. Each model is a one-off development and an existing vehicle is not continuously improved or updated, but disposed of at the end of its service life.
Here, an adapted closed-loop approach could already ensure faster innovation cycles and, in combination with a circular economy, drastically reduce resource consumption and increase efficiency. Today's vehicle owners, i.e. mostly private individuals, cannot measure and experience the added value through a reduction in total cost of ownership and less environmental damage. In contrast, fleet operators and public institutions in particular look at these factors and tend to ignore emotional purchase factors.
This is also the reason why a fully closed-loop approach will initially be applied in industrial machines in the short to medium term. For example, investment-intensive production lines are already regularly revised for reasons of cost and efficiency. A closed-loop engineering process will accelerate these update cycles and produce better results based on data analyses.
In the context of Automotive Innovation Forum 2021, Richard Kordaß, Project Manager Innovation, once again shows all the steps of this project in detail and explains in detail why closed-loop engineering will be indispensable for the development of innovative mobility concepts in the future.
We have also made the complete lecture available to you as a video. This will give you even more exciting insights that you can use for the evolution of tomorrow's mobility.