Our vehicles produce a wealth of data every day, using state-of-the-art technology to do so. Highly complex sensors such as cameras, radar or lidar collect this valuable information. These can then provide information on the vehicle's performance, e.g. slippage, accelerator setting, gear shifts, etc. But for OEMs, the focus is on quite different questions when it comes to the development of their vehicles: do the signals come at the right time, are the preliminary conditions right, do the actuators implement what the algorithm determines and outputs on the basis of the sensor data, etc. With our newly developed ED::MEDAAN software, the evaluation and processing of this measurement data can now be accelerated enormously.
Data is the gold of the 21st century. Just like the valuable precious metal, of course, it also needs to be well protected and it takes the right know-how and equipment to recover this treasure. Unlike gold, however, data is not a commodity that will run out. Every test stand, every technology carrier or prototype generates enormous quantities of data every day: but only the correct analysis and interconnection of the data will turn it into "digital gold" for OEMs and suppliers. And here, too, processing calls for the right experts with the best possible tools. With our ED::MEDAAN (MEassured DAta ANalytics) software, we can now carry out the correct analysis and processing of the data both in and around the vehicle, and produce this valuable gold.
In the last few years alone, the volume of measurement data produced by a vehicle has risen tenfold - from 20 to about 200 gigabytes per test drive. And we are certainly nowhere near the end of the increase in data yet.
It was precisely this exponential accumulation of vehicle data that was behind the development of the ED::MEDAAN software. As experts in the fields of vehicle development and connectivity, but also software development and big data technologies, we are aware of the fact that this flood of data is pushing the systems currently available on the market to the limits of their performance. An OEM or supplier wishing to master this in the future, in order to develop existing and new vehicles or components/control units, will need technologies that can offer greater speed and intelligence in the processing of measurement data.
High performance, scalable, hybrid, intelligent. This should be your measurement data platform.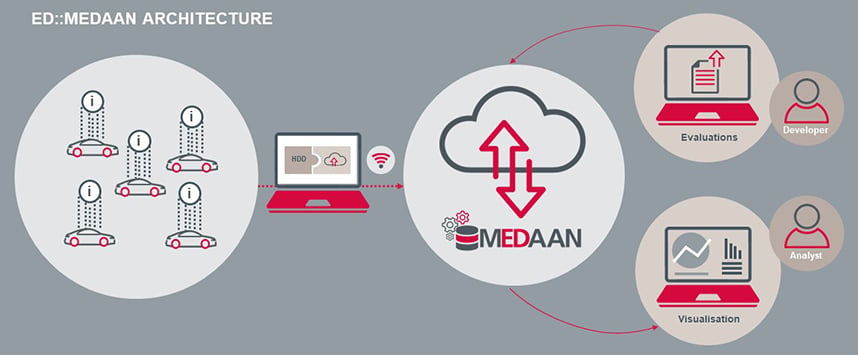 The OEMs' test and validation processes need to be adapted to the rapidly changing requirements of the new technologies, in order for them to become data-driven, dynamic, flexible and data-based.
Data loggers are installed during test drives, to record all the information communicated in and around the vehicle. Starting with speed and object recognition through to network management – e.g. does the bus go to sleep and wake up again quickly enough, is the lane departure warning system active, etc. Due to the large quantity and complexity of the data produced, it is becoming increasingly difficult to analyse and export this data in realtime using the conventional systems still in use, meaning that results are not available until days later, and the full potential of the data cannot be exploited.
From this, the developers in turn derive improvements for the functions and control units, which are then tested in further trials and also generate usable measurement data.
ED::MEDAAN is a complete measurement data ecosystem for the high-performance, scalable and low-cost analysis of vehicle measurement data. This in-house software development places us in a position to be able to provide enormous amounts of data in a significantly shorter evaluation period - by a factor of up to 30. Our concept is based on a technological approach for the implementation of which the EDAG development team in Gaimersheim also made use of state-of-the-art technologies including Java, Vert.x, Docker, Vue.js.
ED::MEDAAN has a number of features which we were able to implement by bundling our vehicle connectivity and software development skills. The software was presented to an OEM some time ago, in a proof of concept:
High-performance engine


For carrying out automated, platform-independent evaluations and generating data. At the same time, it supports all standard automotive bus systems and data formats such as TTL, BLF, ASC.
Analysis dashboard
This guarantees the ad hoc availability of evaluation results, while at the same time permitting dynamic filtering and cross-log file display.
Administration
Evaluations can be managed and prioritised. Administration also serves as a means of user management and system configuration.
Development environment
This facilitates user-friendly evaluation generation using Java, and offline validation. Existing libraries may be used for the data analysis.
Upload application
Guarantees automatic log file persistence, a preliminary analysis of the data during transmission, and the assignment of meta data. Manual data maintenance is also possible.
Reporting and data export
Personalised reports on analysis results can be exported. If these have already been defined in advance, automatic notification can be set up. Log files can also be exported.
Individualisation
Apart from integration of the software in existing tool landscapes, we also offer customer-specific tailoring. The processing of other file formats and the conversion of existing evaluations are also possible with ED::MEDAAN.
In addition to a comprehensive training concept, our services also include analysis and/or evaluation service.
The dashboard makes it possible for the data to be visualised; all special cases of data analysis can then be covered by what are known as data scripts. All of this measurement data is retrievable within a few minutes once the vehicle is back in the workshop for the read-out.



We have the licence for data analysis
ED::MEDAAN will be available to our customers with a scalable licence model from May 2021, i.e. you can purchase licence packages for the desired number of users. A server structure is also required to be able to operate the software. In this respect, we are completely independent, and can work either via classic cloud platforms such as Microsoft Azure or Amazon Web Services, but also via the customer's own computer centre.
Our original objective in the development of ED::MEDAAN was for it to be used as a measurement data platrorm for vehicles. As a general rule, however, the software can be used wherever large data quantities are generated and then quickly need to be read out and analysed. This could also be in other sectors, for instance the aerospace industry, or for applications in general industry, e.g in the smart factory.
Daniel Mattes, Team Manager Computing & Software Development, who developed ED::MEDAAN in cooperation with his team, will also be happy to provide a great many additional details concerning the software and its possible applications. Data is our passion, and with ED::MEDAAN, we can make our contribution to ensuring that data is made available to OEMs and Tier 1 suppliers quickly and reliably, so enabling them to accelerate their development processes.