The electrification of the powertrain also has an effect on the brake system – many previously valid concepts and experiences are losing their validity. In order to meet the resulting requirements, not only innovative solutions, but also new methods and tools need to be developed, for simulation and testing processes for instance. EDAG has now brought together the numerous skills that come into play here in its Center of Competence Brake ("CoC Brake").
As things stand today, the future of vehicle construction lies in the electrification of the powertrain, be it of the battery-electric or fuel cell type. However, not only acceleration, but also the question of braking needs to be completely rethought. Instead of simply converting the vehicle's kinetic energy into heat by means of friction, the focus is now on retrieving energy when braking. Although the mechanical brake will still be needed, it will be used less frequently when the generator operation of the powertrain is generally used to reduce speed, in order to charge the battery.
This changed "usage profile" must also be reflected in the development of new brake systems, as must the electrification and digitalization of brake controls. Driver assistance systems - from parking aids and emergency brake system to autonomous driving - need access to the brake system, which today is already provided to some degree by the brake control system. In the future, possibilities for intervention can be further increased if, instead of the direct mechanical coupling of brake pedal and brake as we know it, the digital method of "brake by wire" is realized - i.e. if the hydraulic signal transmission is replaced by a data line and the brake pedal is only the actuator in a digitally controlled brake system.
Regulatory changes relating to particulate emissions from brakes also present our developers with new challenges. Just recently, in September 2021, the WHO drastically lowered its recommendations: long-term exposure to PM2.5 should no longer exceed 5 µg/m3 of air (previously: 10 µg/m3), and for PM10, the WHO now recommends 15 µg/m3 instead of 20 µg/m3 [Source: https://www.aerzteblatt.de/nachrichten/127468/WHO-empfiehlt-drastische-Senkung-von-Stickstoffdioxid-und-Feinstaub-in-der-Luft]. At the same time, it criticized the lax EU limit values (25 and 40 µg/m3).
In this context, the Particle Measurement Programme (PMP) of the European Economic Commission of the United Nations is currently developing uniform standards for the measurement of particle mass and quantity on brake test benches. It is anticipated that by the middle of the decade, the legislators will be introducing new limit values, for which we must already prepare today. [Source: https://wiki.unece.org/pages/viewpage.action?pageId=2523173]
And last but not least, without the background noise of the combustion engine, which has until now drowned out a great deal, greater attention will be focused on noise development. "I think there's something wrong with my brake - it's making strange noises," is a statement that sets alarm bells ringing for both dealers and manufacturers. Even if there is no real problem, it still means that the driver has doubts about its safety, and confidence in the vehicle - and the brand - is at risk. The sound of the brake system is therefore a factor that directly affects the customer's perception of quality.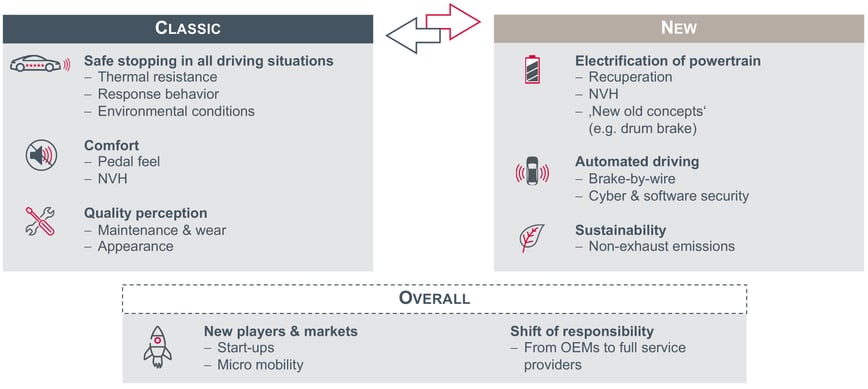 Hence, the development of modern brake systems calls for a wide range of skills - which have long been part of EDAG's program. To bundle know-how and simplify collaboration, we have brought together all these skills in the Center of Competence Brake ("CoC Brake"). This is where all the departments involved in brake development or all four development stages are located, from design to the finished product in series production:

Concept and function development, including CAD design
Simulation – validation of the brake in virtual space, with regard, for instance, to noise development, cooling, strength and service life
Test benches at which the hardware is subjected to physical tests
Vehicle testing, in which the brake is put to use in the "complete package", i.e. in the vehicle, and put through its paces.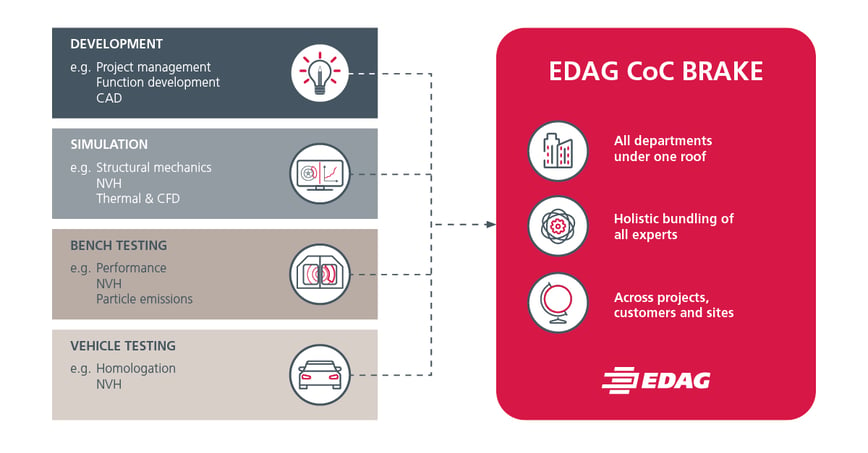 The CoC is a virtual umbrella organization because it is not located at one single place; instead all competencies are available at every site involved. In this way, we are creating a Germany-wide network of brake experts, which is characterized by extensive capacities and proximity to the customer. With this structure, we were able to create a cross-site competence platform so that the knowledge we generate in projects or in the course of our own developments is available anywhere and at any time.
At the same time, we must ensure that this knowledge is also reflected in all stages of development. So that not just the breadth and depth of expertise in the development department grows, but the performance of the simulation tools also increases, and relevant requirements are taken into account in the virtual testing possibilities. The same applies to the test benches at which the solutions developed must then prove themselves in hardware tests.
This can be seen, for example, in particle emissions. On the one hand, pollution of the air with extremely fine particles (PM10, PM2.5) can be changed by design measures, for instance by filters that capture a relevant amount of the particles produced by brake abrasion. Equally, however, the return to the drum brake is also a possible solution in view of the reduced braking power requirements in electric cars. In addition, we are confronted with new designs, for instance brake systems integrated in the wheel rim, for which completely new ideas need be developed.
Even before the legislator readjusts the limits for particulate emissions, we are already focusing on this development. On the one hand, by developing concepts to reduce the particles released by abrasion in new brakes, while on the other, ensuring that, as the simulation models undergo constant further development, we include all relevant factors - particle abrasion for example. The same applies to our test benches, which we will retrofit with appropriate particle measurement technology. Such capacities are scarce, and therefore of great interest to both OEMs and Tier 1 suppliers.
"Brake by wire" - i.e. using a data cable to replace the previous hydraulic signal transmission - also entails a number of implications. Safety, redundancy and resilience, as well as software security and cyber security must be thought of together in this type of system, to ensure the safety and reliability of the brake system under any circumstances. On the other hand, we can add new comfort functions to such a system. If the brake pedal is now just a sensor, it can be assigned different effect characteristics, for instance "Sport", "Standard" or "Comfort", each of which can be individually adapted to the particular driver.
All these developments show that, with the CoC Brake, we have succeeded in integrating new areas of competence into brake development, and strengthening our capacity for innovation. What is more, through our own research and scientific studies, we are extending our knowledge, in the area of brake noise for instance, in order to secure our lead over the competition. With the simulation of sounds below 1 kHz - the frequency range in which the low hum of the combustion engine previously masked almost everything - we are a vital step ahead of other suppliers. Creep groan in particular, i.e. noise developments in the 100 Hz range, is currently a major problem in the field of electrified vehicles. As a result of our research activities, we can now offer a unique solution to this problem which is well beyond the usual industry standards. We will be presenting details in a talk at the EuroBrake show in May 2022.
These efforts to constantly build up knowledge and further develop methods and services are attracting a great deal of attention in the industry. A major automobile manufacturer has, for instance, certified that EDAG CoC Brake's simulation portfolio is of OEM standard. And another has praised the rapidity with which our know-how is developing - and that they are very happy to work with us.
Thus the first foundation stone has been laid not only for carrying out brake development as part of larger orders, but also for systematically gaining such projects in the future. This could be within the context of platform developments for established OEMs, or as a cooperation partner for the rapidly growing startup scene. Even unusual vehicle and mobility concepts developed by new market players will need a reliable, sound brake system. And this is something we can deliver, including all services: from the first scratch to official approval, and beyond that, further development based on empirical values in series production and "practical testing" at the customer's premises.
So if you too have a specific brake development project, or would like to know more about our simulation and testing methods, please do not hesitate to contact us. Dr. Dominic Jekel, Head of Center of Competence Brake at EDAG, will be happy to answer your queries.
Detailed information on our development concept can also be found in our free white paper "Requirements of Disc Brakes in Passenger Cars and their Efficient Validation in the Development Process".