Automobile markets are faltering all around the world – except in China. Both here and there, there is really only one growth segment: vehicles with electric powertrains. Many suppliers from Asia and the USA are trying to use this new situation to gain a foothold in Germany and the EU. There are many factors that will determine the success of their market entry. Having an experienced local partner can significantly improve the chances of getting off to a good start.
European – and particularly German – car buyers attach great importance to things such as quality and safety features in their vehicles. To some degree, this also applies in the low-price segment. Even an inexpensive model will not prove popular unless certain standards are met. This is something that Brilliance 2007 had to learn the hard way. The Chinese manufacturer brought a mid-size sedan to Germany, but this quickly proved to be scarcely marketable. Why? Because it failed the renowned ADAC crash test. Attractive appearance is another decision-making criterion. This was the reason why, years ago, Chevrolet's attempt to bring American muscle cars to Europe came to nothing.
Opportunities and risks
Nowadays, mistakes like this hardly ever happen to suppliers from Asia or America – companies have obviously learned from their expensive mistakes: mistakes that also led to a period of caution. Now, however, many new suppliers are flocking to Europe, some of them long-established OEMs, others young companies and absolute startups. Seldom have the chances open to them been so good.
The combination of the digitalization of vehicles and the electrification of powertrains is causing enormous upheaval in the European vehicle market. Having decades of expertise in combustion engine technology and sheet metal working is losing its importance, opening the door to new suppliers who have already gained a head start in terms of electric powertrains and software-based user interfaces. But even for them, entering European markets will not necessarily be a sure-fire success. This is because there are still many factors needing to be taken into account – which in the very worst case could lead to the failure of their expansion into Europe.
For one thing, there are regulatory requirements for market entry – including safety requirements and emission limits – which need to be met, and essential registration and approval processes must also be completed. For foreign suppliers, this often raises the question of how to interpret European laws, directives and the numerous national regulations. Far more difficult, however, is the task of finding and convincing potential customers. The positioning of the brand and models, price level and quality guarantee, space and driving noise, and even the operating concept of the vehicle are all factors that play a role here. From the outside, it is not always easy to see how the customers tick in a market that has so far not been served: what expectations and requirements they have, and what importance is attached to the various factors.
Experienced partner
This is where collaboration with a local partner who has the skills and experience to fill these gaps can be helpful. One example is the EDAG Group, which has numerous branches in Germany and many other European countries, and is therefore able to supply local contacts in whichever EU country in the Community market a supplier decides to take its first steps. The branch offices are closely networked and work together across the various sites, enabling them to draw on the skills and experience available throughout the entire company to meet requirements.
The automotive specialist already has extensive experience in assisting European OEMs with their entry to the US, Chinese and other Asian markets. EDAG can therefore draw on tried and tested processes that also work in the other direction and meet all requirements. What is more, our skills are not limited to the European market. When providing homologation/certification preparation and support, EDAG specialists can also cater for global type approval, if required.
The EDAG Group's key preparatory services for market entry include the following:
Target value definition from vehicle level to component level

Positioning the product on the market and defining competitors' vehicles which will serve to coordinate targets, with corresponding benchmarking

Assigning target values for the entire vehicle according to relevant attributes
Determining what requirements will be necessary to achieve global market entry

Generation of vehicle technical specifications (VTS) and specifications required for validation

Determining and assessing local features and functions on the basis of European standards, from the end customer's point of view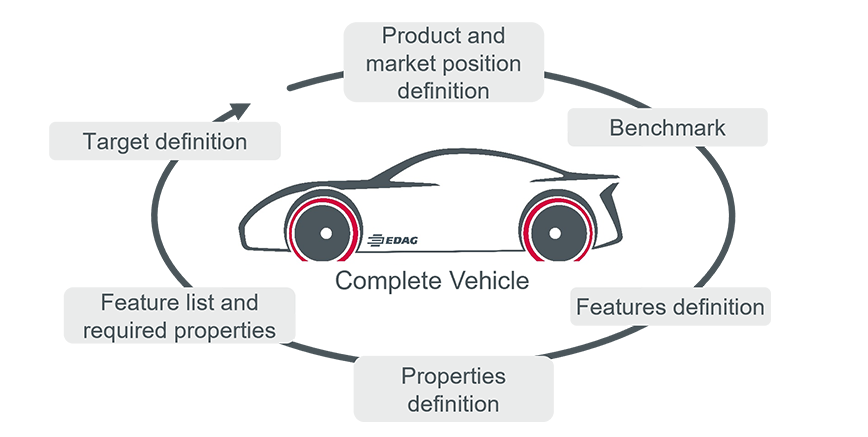 Before and after market approval
Once the targets have been defined, the next step is implementation. This may mean adapting an existing vehicle to create a derivative for the EU market, or developing a complete new vehicle for European buyers. In the latter case, an initial prototype is created, on the basis of which an initial structural validation is carried out. This is followed by a new prototype with a higher degree of maturity, in other words offering improved product quality and greater reliability, through to the pre-production vehicle. In the process, the complete vehicle validation specialists ensure that the result is in line with the originally defined targets and pay attention to economic efficiency.
In addition to the complete vehicle validation department, EDAG offers other skills relevant to a manufacturer entering the EU market. The automotive specialist can, for instance, help to set up a repair shop network or select suitable service partners, with training workshops for example, or the organization of a sound IT strategy, a spare parts logistics system and other after-sales functions.
Do you also have a localization project coming up? Would you like to find out more details of how to handle it quickly and efficiently? Then ask our experts: Fabian Epple, Sales Manager for Vehicle Integration, and Torsten Schmelz, Head of Vehicle Validation at EDAG Engineering. Or download our white paper "The EU Market is Attracting New (E)Car Manufacturers", that describes how to successfully enter the European vehicle market.