Unsorted parts in containers, boxes full of bolts for example, are often an inhibiting factor when it comes to industrial automation. Frequently, this still means laborious manual work. But bin picking – where a robot picks up parts – has undergone significant development in recent years. Modern technologies are lowering the barriers to entry into this "royal discipline of automation". Even so, bin picking must be properly devised if the hoped-for increase in efficiency is to become a reality.
There are many areas in which bin picking can be implemented. Examples include small parts such as the screws or bolts used in industrial production, equipping laboratory robots with medical material, food processing, or the removal of goods for order picking in logistics.
Frequently, manual activities still dominate in these processes because automating the processes appears to be too difficult. The parts are removed by hand, and either moved into the correct position, or placed in the correct container. Or they are sorted into carrier systems so that a predefined position and orientation is maintained, making it easier for the robot to pick them up. Other processes use conveyor belts and vibrating tables, by means of which the parts are separated and aligned. However, not all products are suitable for such treatment, and every object change entails complex adjustments. High personnel costs on the one hand, with lengthy conversions and a lack of flexibility on the other reduce the efficiency of the plants.
Problems of manual processes
There are, however, also a great many disadvantages to manual sorting by employees. The first is the risk to employees. Stamped parts, for example, have sharp edges before they have been deburred, and can easily cause cuts. Safety gloves limit finger sensitivity and dexterity, making it difficult to pick up small parts. Vapors or heat from the preceding production step can also put employees at risk. Wearing protective clothing and face masks adds to the strain of the physical work, as do heavy components or products that are ergonomically difficult to reach.
Secondly, manual tasks such as sorting, picking or packing objects are often monotonous jobs which lead to both a loss of concentration and as a result, errors, while also having a demotivating effect. Short cycle times and excessive time pressure add to this effect.
How robots can become an alternative
"A long bolt, please!" – this request is not a problem for human colleagues, but for a robot, it is a task that requires a good deal of preparation. Additional hardware and software give the robot additional functions, and both must be able to cope with the demands of every single step. Adequate image quality and sufficiently powerful processors are imperative. The significance of the reference data used to train the bin-picking application is of equal importance.
To this end, the bin picking automation process must be broken down into its essential steps:
Seeing: One or more cameras are to the robot what the eyes are to a human. The pictures taken are further processed using suitable software.
Recognizing: The desired object is identified by a three-dimensional reference model. The location and position of one or more of the objects being searched for are reported – or the fact that no object could be found.
Selecting: The previously identified objects are analyzed, and the object which the robot will be able to pick up most easily is selected. Interfering contours, i.e. surrounding areas that might potentially lead to collisions, are also taken into account.
Planning: After the object to be picked up has been selected, the next step is to plan the path the robot will follow, i.e. the entire motion sequence is created.
Performing: Once all the preparations have been completed, the collision-free movement is executed. The robot moves to its target position, picks up the object and deposits it in a precisely defined position at a previously defined storage location.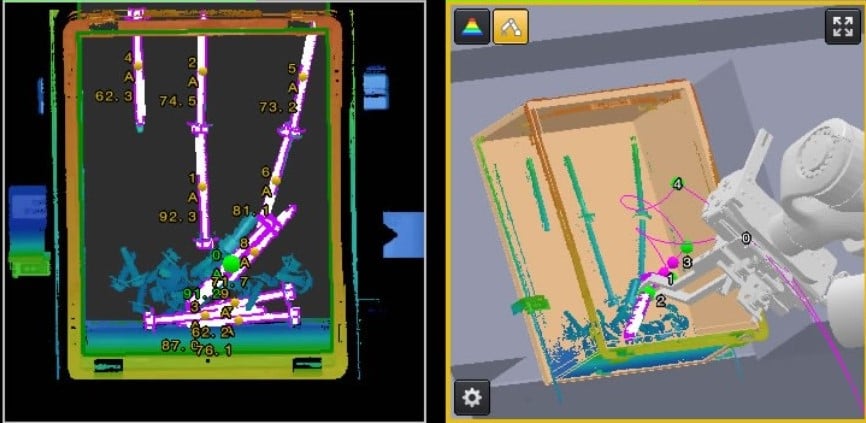 The path planning of the robot's movement takes into account both the object to be picked up and the restrictions imposed by the surroundings.
Broad range of applications
This method can be used to implement bin-picking applications in many different scenarios. The method described above is typical of pick & place applications. Further use cases include sorting different goods, pre-order picking, and the packing of parts in logistics. A further possibility is its use in assembly tasks and quality control in mechanical and automotive engineering, the food industry and numerous other areas.
The automation experts at EDAG Production Solutions have acquired extensive experience from numerous bin picking projects, and, taking this as their basis, have added to and enhanced the procedure. A comprehensive questionnaire enables them to carry out a detailed analysis of the current process and clarifies customer-specific requirements, which are incorporated into an individual feasibility study as optional upgrades. When carrying out a project of this type, uninterrupted process monitoring with documentation is set up, and integration into a higher-level control system is also possible.
If you would like to know whether bin picking would also be worthwhile in your company, or how an appropriate automation project might be used to increase the efficiency of the overall process, project leader Heiko Ehmer can help and advise you. Or download our white paper "Bin Picking is Becoming More Efficient" now.