Without robot systems, today's production applications would be unthinkable. They ensure productivity and quality, and perform heavy and dangerous tasks. Since industrial robot systems are assessed as high-risk, protection concepts are usually designed in such a way that robots and humans work separately in terms of location and/or time.
A matter of safety for humans and robots
Except for teaching and maintenance, for which special specifications apply, humans do not have any direct communication with the actuating elements of industrial robot systems. The safety standards EN ISO 10218-1 (requirements for industrial robots) and EN ISO 10218-2 (design specifications and requirements for the robot system) must be observed here.
If the application is safely planned, there are now new technologies which enable direct collaboration between the robot and human being - this is known as human-robot collaboration, or HRC. This means that the advantages of robot systems can be optimally combined with human capabilities. In addition, HRC applications make new types of production concepts possible, so HRC applications take over an important role in dealing with superordinate issues, relating, for example, to demographic change, the optimised integration of employees with a "reduced performance", and the improvement of general working ergonomics.
Basic principles of human-robot collaboration
As a general rule, HRC applications are based on protection principles or on a combination of various basic principles. These are:
Monitored fail safe stop - the robot stops when an employee enters the shared work area, and resumes work once the employee has left the area again.
Speed and distance monitoring - the robot system prevents any contact between the employee and the robot in motion.
Manual robot control - robot movement is actively controlled by the employee.

Force and pressure limitation - though possible, contact forces between the human and robot system are limited to a safe level.
A common feature of all HRC applications is that the safety measures need to be carried out precisely and consistently across the entire application, while taking functional and production-related aspects into account. However, retrofit options in conventional systems, effected for example by means of fixed structural separation or additional safety components, are either not applicable at all with HRC, or only to a limited extent, depending on the protection principle.


If the principle of force and pressure limitation is applied, HRC-compliant design is essential in the development of the plant from the very beginning. This includes the following aspects:
Selection of an appropriate HRC system
Safe design of grippers and tools
Consideration of properties of parts (geometry and mass)
Work processes, limitation of work areas and speed
Production technologies used
Principally, there is no such thing as an intrinsically safe HRC robot Also, the use of an HRC robot does not in itself result in a safe HRC application. If, for example, a sharp scalpel or a pointed pin is used as a "robot tool", any HRC robot equipped with it will be capable of causing injury. Therefore, not only the force, but also the pressure (force/effective area) that the HRC system can cause in the worst case are significant parameters when it comes to safety assessment.
As a result, tool and part geometries have a very strong influence on the specifications of possible travel speeds and performance specifications, torque for example.
Limits of human-robot collaboration
The limits for the tolerable forces and pressures for different parts of the body are defined in ISO/TS 15066. It is clearly necessary to validate the force and pressure specifications by measuring them with a compliant measuring system.
The legal framework for HRC application is the machinery directive 2006/42/EC. The relevant standards are:
EN 10218 Parts 1+2: Robots and robotic devices
EN 12100: Safety of machinery - Risk assessment and risk reduction
EN 13849 Parts 1+2: Safety-related parts of control systems
A standard that has not yet been listed, and is the only international set of rules describing HRC applications with forces and pressures, is ISO/TS 15066 "Robots and robotic devices - Collaborating robots".
HRC applications frequently come up against their limits. HRC robots are substantially power reduced. Speeds, acceleration, possible forces and torque do not compare with those of standard industrial robots. Safety requirements mean that they are further reduced by the applications. As a result, cycle time specifications are very often not met in HRC operation.
Various production processes are not possible on account of payload or other production factors, the performance of the control system and the functional capabilities of the HRC system.
The safety experts at EDAG Production Solutions always bear all of this in mind when assessing an HRC, and can represent and check the various factors by means of simulation. There are, however, also applications that cannot be represented by simulation, and need to be physically tested. To do this, we have our HRC laboratory in Böblingen.
We can pre-test your special application for an HRC robot here, and then recommend the best robot on the market for this application; or we might perhaps discover that an HRC is not suitable for this application, either for safety or feasibility reasons. A further aspect of our service portfolio is to provide supplier-independent advice and support for your choice of HRC robot.
EDAG Production Solutions can look back on many years of experience in the field of robotics and machine safety with HRC systems. Thus we are a competent partner not only to our customers and suppliers of HRC robot systems, but we also support scientific projects and contribute our know-how, as we are currently doing for the Rhein University Bochum.
This involves testing the use of human-robot collaboration in assembly, the realistic behaviour of the virtual image, the integration of image processing systems and the balancing of hybrid assembly systems in a robot laboratory, using four different HRC systems.
Safety is the ultimate objective

Generally speaking, as with every cooperation, certain rules need to be observed before an HRC-capable robot is purchased and implemented.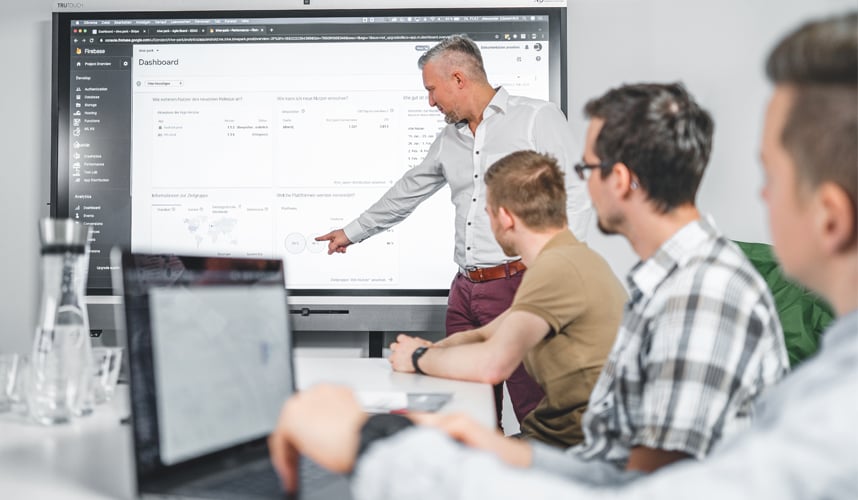 You can access our range of seminars for machine safety and occupational health and safety here.
The EDAG Production Solutions safety experts consistently apply their experience in the implementation of HRC applications. Regardless of whether what you require is a simple consultation to discuss an HRC solution or a complete project, including definition of safety requirements, tool and component selection, simulation, and then installation of the final HRC robot and safety training, we have the necessary experience in all areas to enable us to handle projects of this type - for international customers, too, of course.
It is also essential to learn how to handle the robots safely. Our safety seminars are designed to qualify and certify your staff in current matters relating to machine safety and occupational health and safety. The seminar instructors are experienced engineers who are absolute experts in their field. As technology progresses, safety standards also change. It is therefore particularly important that the training of your employees is always up-to-date, to ensure that work is legally compliant and cost-optimised.
More information on EDAG Production Solutions's range of safety engineering services and seminars can be found on our website.
Successful safe implementation of the first HRC application
Planning the use of an HRC application calls for not just the necessary technical know-how, but also a great deal of experience. Ulrich Hochrein, our expert and Head of Safety Engineering Services, has not just this experience, but also enormous enthusiasm for HRC robot systems. He will be happy to answer any questions you might have on the subject of HRC.
To make sure that you get off to a good start with HRC applications, Ulrich Hochrein has compiled a checklist entitled "Ten mistakes made during implementation of the first HRC application and typical occurrences experienced during HRC projects":