We admit that of course we can't tell you which lottery numbers will come up next Saturday or who the next football world champion will be. Nevertheless, we can still predict the future. How? With predictive maintenance.
If you think about digitalisation, industry 4.0 and the smart factory, it is impossible to avoid the term predictive maintenance. The ability to maintain machines and systems with foresight, i.e. proactively, in order to minimise or ideally completely avoid downtimes and malfunctions is THE topic relating to Industry 4.0.
The process uses measuring and production data, from which it extracts maintenance data. This makes it possible to detect faults at an early stage, before they lead to breakdowns. Maintenance tasks can be carried out proactively, long before a fault actually occurs.
All over the world, production plants in many sectors have become highly automated, and therefore provide the perfect basis für this promising technology. Germany is a pioneer in this field, which is why this topic is also attracting a great deal of attention and frequently forms the basis of many studies, such as
Our crystal balls are data
To be able to make really reliable predictions, predictive maintenance requires a great deal of data. This data needs to be acquired, saved and analysed. Enormous amounts of data are generated in this way. Big data and the Internet of Things (IoT) are further keywords here, without which efficient predictive maintenance would not be possible.
EDAG Production Solutions provides many customers from a wide variety of industrial fields with support in the use of this technology. In this way, we have also been able to win over automobile manufacturers, and have developed a Hackathon concept to facilitate individual requirements analysis for our customers.
The problem
Breakdowns and faults often occur during operation, and need to be dealt with by the maintenance team. If a machine is idle and there is a break in production, this is a direct breakdown. On top of this comes the additional cost of other machines in the line which are also forced to stop production due to the fact that they are connected in series.
Maintenance is called out and they solve the problem. In addition, spare parts often have to be ordered. If they are available, they often have to be delivered as rush orders, which leads to further additional costs.
Nor, unfortunately, can subsequent costs be avoided. If a line breaks down, it might be necessary to reschedule the production of other lines, as production is generally carried out in just-in-time und just-in-sequence mode.
The procedure
Predictive maintenance uses the data created during the production process to detect irregularities in the data. This makes it possible for maintenance staff to take early action in production-free areas. An international, multi-disciplinary team from EDAG Production Solutions has developed a method for this which uses sensor and control data to work out predictive maintenance solutions for any customer.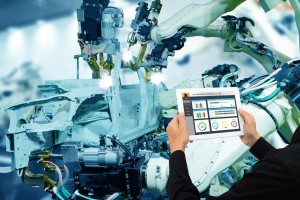 The sensor data is analysed by data scientists and technical/process experts in joint workshops. Working on the Pareto principle, an effective field of action for production stoppages is first of all identified. According to this principle, 20 percent of the components and processes are responsible for 50 to 80 percent of all breakdowns. The project is initially restricted to a part of this 20 percent, and therefore promises great cost-benefit potential.
A close look is subsequently taken at every single process that is susceptible to faults, and from their findings, the technical experts then derive hypotheses which enable them to prevent faults.
Let us explain the procedure again using two examples:
Industrial robots
Industrial robots have several servos – a combination of control and drive unit. Typically, these exhibit irregularities in their power consumption data before a breakdown occurs.
Hypothesis: Action can be taken before a breakdown occurs if the power consumption of a servo is observed.
Fixtures
Fixtures usually have a large number of mobile clamps which are moved either pneumatically or by means of electric power. The control unit must receive confirmation that the clamps have reached their end positions, ensuring that a component is properly clamped, before work can be started on the component. These mobile clamps frequently become soiled or worn, which slows them down, until they open or close so slowly that it is no longer possible to adhere to the required production rate.
Hypothesis: If the opening and closing times are measured and a gradual deterioration is detected, maintenance staff can take action before production breaks down.
Why should you choose EDAG Production Solutions, and not an IT service provider?
The big data and predictive maintenance boom have given EDAG Production Solutions an unbeatable advantage over IT companies and startups: thanks to our years of experience in the production environment, we are familiar with all production - and therefore maintenance - components and processes. The involvement of our in-house data scientists means that our comprehensive process knowledge is seamlessly linked with big data processes.
The method
We work with you to develop your predictive maintenance strategy. This is based on the hypotheses we have jointly put forward and model-based condition monitoring. Signals from a wide variety of sensors are observed, analysed and compared with learned value limits, to identify any anomalies.
The observation of this condition monitoring is then taken over by machine learning algorithms. Together, we teach the system how to identify process problems itself. It does this by searching data for patterns, and can warn the employee of any irregularities it finds. In this way, the capabilities of man and machine are put to optimal use. The machine constantly observes data quantities that are so large that a person would soon lose track of things. Information is only provided when necessary. Maintenance staff can therefore concentrate on what gives man an unparalleled advantage over machines: the ability to use technical knowledge to solve complex problems.
But how do we bridge the gap between method and strategy? We will show you.
Getting started
To make your first steps in predictive maintenance easier, EDAG Production Solutions offers Hackathons, during which, in just a few days, we can very quickly and cost-effectively develop your very special predictive maintenance potential with you.
To get an idea of what that might look like, see our Hackathon concept:
As experienced specialists in Big Data Analytics in a production-related environment, we can help you to predict the future – at least as far as the maintenance of your plant and machinery is concerned. Production IT Project Manager Emma Nau will be happy to answer all your questions about predictive maintenance, and is your competent partner in this field.