Without clean rooms, the development and manufacture of many high-tech products is virtually inconceivable. Cleanliness requirements are becoming increasingly stringent, in the production of semiconductor components, for instance.
Considering that component structures in the single-digit nanometer range can now be exposed by lithography, it quickly becomes clear here just how much damage a dirt particle measuring 0.1-0.3 µm can cause.
But it is not only the manufacture of electronic semiconductor components that is carried out in the clean room. The plant technology for such products is also prepared and assembled in the clean room.
Other clean room applications can be found in medical technology and the food industry, for example, though each field does, of course, have different requirements.
There is one thing, however, that all clean room applications have in common: they mean considerable additional expense when it comes to the production and development of the products concerned.
One clean room – the answer to particular customer requirements
In 2019, EDAG Production Solutions (EDAG PS) handled its first clean room project on its own premises. For the customer, system components were developed, assembled and qualified for subsequent use in the clean room. Work is currently being carried out on the twelfth project for this customer.
The clean room tent specially erected for this purpose will soon no longer be in use, because from November 2022, there will be a clean room at Hutweide, the new EDAG site in Petersberg near Fulda, which, with a floor area of 160 m² (10 x 16 m) provides plenty of space for assembly and measurement applications. The inside height of 4 meters also allows for extended dimensioning in the z-direction. Access to the work area is via a clean room-specific personnel air lock and a corresponding material air lock. At present, a dozen employees have been trained to work in the clean room.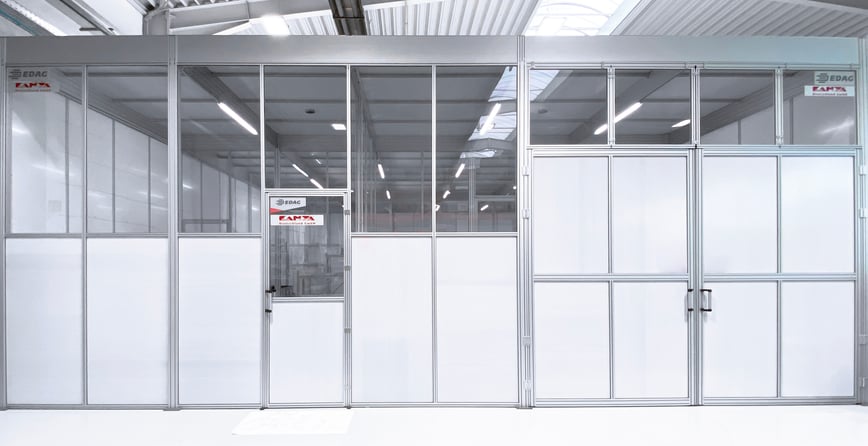 In addition to recording geometric parameters using a Faro® arm, the measuring technology also enables, among other things, UV-based detection of any dirt particles in an area which can be darkened.
The clean room itself is a modular in-house development realized by EDAG PS in cooperation with the system technology supplier Kanya Deutschland GmbH. This has led to a concept that can also be implemented quickly and effectively for indirect customers.
One clean room – many different projects
A plant manufacturer offering the possibility of assembling plants and components in a clean room is without doubt a unique selling point. Incidentally, an additional interesting piece of information is that, once EDAG PS has carried out the appropriate quality measures, it is also permissible for the clean room to be used to manufacture production equipment that will later be used in clean rooms in the much stricter ISO 6 class; one instance of this was the qualification of a heavy-duty robot (1,500 kg payload) for the high-precision and ergonomic positioning of components in an assembly application that was subsequently put into operation in the end customer's clean room (ISO 6 class).

A wide spectrum of projects can be handled in the EDAG-PS clean room. This ranges from purely rental applications, with the customers renting the workspace for their own applications, through contract assembly, to complete turnkey projects where, in addition to assembly, installation and commissioning, the complete development of a system is also carried out by EDAG PS as the general contractor.
One clean room – one process from air lock to air lock
Working in a clean room requires the employees to adjust the way they think and act. This begins with the loading of components and tools, for which ultrasonic baths, among other things, are available, and ends with standardized packaging (for example, heat-sealing in three independent sleeves, each of which must later be removed again in a separate process at the installation site). Over the years, EDAG PS's clean room experts have internalized these special processes and incorporated them into their daily work.

One clean room – complex know-how
Another aspect is the development of the components and production equipment themselves, which needs to comply with clean room standards. The right choice of materials and correct design are skills in which the EDAG PS developers are fully proficient. Components with no unnecessary undercuts, gaps or angles (where dirt particles could collect) and with surfaces that are easy to clean are important guarantees for clean room-compatible design.
One clean room – different new paths
Where are we heading? One important customer group is currently being served with plant engineering projects for the semiconductor industry. Additional sectors, for instance medical technology, the food industry, hydrogen/fuel cell technology or battery cell production, could follow.
The experience EDAG PS has gained in turnkey plant projects coupled with know-how from clean room applications provides our customers with a sound basis for the implementation of their projects: scalable, fast and professional.

Do you have questions relating to clean room applications? Do you need clean room production space or assembly services? Are you looking for a general contractor for your turnkey project, or interested in having your own clean room installed? Do not hesitate to contact Andreas Friedrich.