From 2035, it is expected that only CO2-neutral passenger cars and lightweight commercial vehicles will be allowed to be registered. This will also apply, for instance, to trucks, tractors and construction machinery. For a technology change in vehicle construction, this deadline is a definite challenge. There are many approaches how to replace diesel. Cummins and EDAG have developed a demonstrator that builds a bridge between conventional and new technology: converting existing vehicle platforms for hydrogen combustion engines.
Motorized road and commercial vehicles can be roughly divided into two classes: internal combustion and electric vehicles. Until now, the internal combustion engine has generally used fossil fuels. These include not just gasoline and diesel, but also compressed natural gas (CNG) and liquefied petroleum gas (LPG). Where electric vehicles are concerned, the energy comes either from batteries (battery electric vehicles, BEV) or a fuel cell (fuel cell electric vehicles, FCEV), the latter usually based on hydrogen. In addition, there are various hybrid forms, and research is being carried out into variants, for instance a methanol fuel cell. If BEVs are charged with green electricity or FCEVs are fueled with "green" hydrogen obtained by means of renewable energy, then they drive climate-neutrally.
The most important requirement here is the availability of hydrogen. As things stand today, only about five percent of the hydrogen used comes from electrolysis using green electricity [https://www.wirtschaftsdienst.eu/inhalt/jahr/2021/heft/1/beitrag/potenzial-gruener-wasserstoff-langer-weg-der-entwicklung-kurze-zeit-bis-zur-umsetzung.html]. But this is about to change. Both at national and EU level, hydrogen strategies exist within the energy transition plans to ensure a rapid ramp-up of the market. As an energy vector, H2 is expected to take on a wide variety of tasks in the future: storing electricity from solar and wind power, replacing oil and coal in the chemical industry and steel production, and also serving as a fuel, for example in railroads and heavy-duty long-distance transport.
With the internal combustion engine, too, enormous efforts are being made to achieve sustainable operation. There are, for example, already CNG variants based either in part or entirely on biogas on the market. eFuels – synthetic liquid fuels produced in a CO
2
-neutral manner to replace gasoline, diesel or kerosene – are also the subject of intense debate.
The challenge will be to ensure these fuels are widely available and affordable in the near future to support further carbon emissions reduction. This is necessary in markets such as aviation, which will
be required by law to add at least two percent sustainable aviation fuel (SAF) by 2025, and as much as five percent by 2030 [https://www.efuel-alliance.eu/political-demands/aviation]. In racing, the proportion of eFuels used is also to be increased in the coming years. In shipping, it has proved possible for ammonia from green hydrogen to replace the heavy fuel oil used to date.
H2ICE

as an additional alternative
And now another technology is about to unite combustion engine technology with sustainability goals, namely the H2ICE (internal combustion engine). Hydrogen is not used in a chemical process to generate electricity here, but is instead ignited in a power unit similar to the Otto cycle with a spark plug . For commercial vehicles in particular, for instance in logistics, agriculture or construction, the H2 combustion engine offers substantial advantages on the way to CO2-neutral mobility, provided green hydrogen is used.
First and foremost, it is much easier to integrate into existing vehicle platforms than it is to develop an electrical vehicle from scratch. This saves development costs and facilitates faster market entry. For the user, key elements of the maintenance and servicing processes can continue to be carried out unchanged.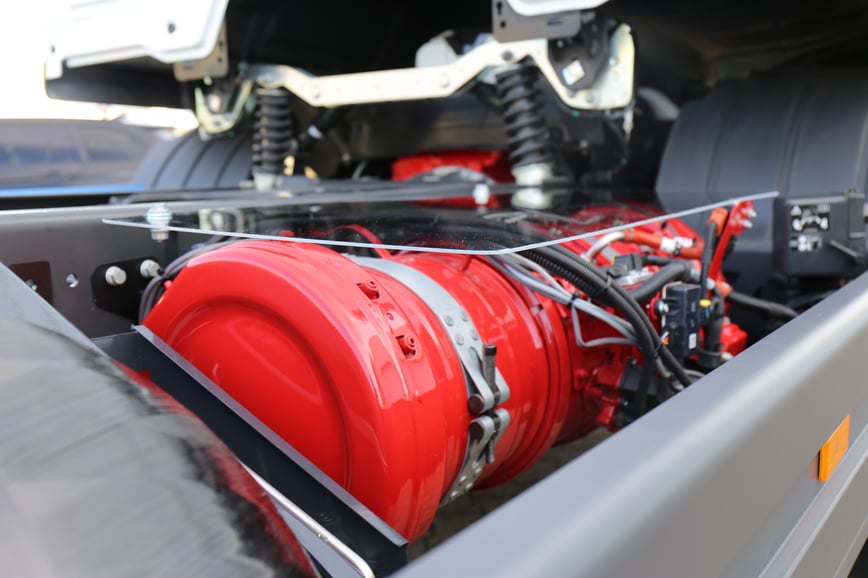 Mercedes truck now a hydrogen combustion engine vehicle
Cummins presented what the technical implementation of a hydrogen combustion engine in an existing vehicle concept might look like in practice at the IAA Transportation 2022 [https://www.iaa-transportation.com/en/visitors]. A converted Mercedes Benz Atego has served as a prrof-of-concept.
At the end of 2021, the global manufacturer of power solutions announced that it would be developing hydrogen-fueled internal combustion engines based on a medium-duty 6.7-liter and a heavy duty 15-liter engine. In addition to promising use cases for battery-electric and fuel cell-electric powertrains, the combination of green hydrogen and the tried and tested technology of internal combustion engines offers an important supplement for future zero-emission solutions, the company says. Cummins has set itself the goal of achieving CO2 neutrality by 2050.
The development is focused on medium-duty applications – like delivery trucks, as well as agricultural and construction products such as excavators and wheel loaders. The new 15-liter H2 platform is aimed at heavy duty long-haul trucks.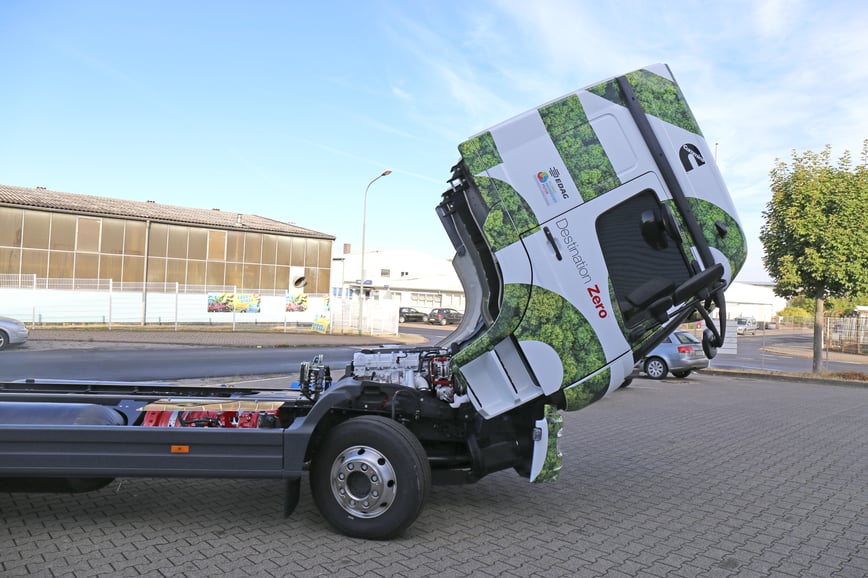 Royal discipline of integration
However, the development of the engine by Cummins is only half the battle. On top of this comes the integration of the entire hydrogen supply system, from the tank connection and storage tanks to the power unit, in compliance with all prescribed safety standards, and then integration into the vehicle control system. This part was carried out by the EDAG Group, in which the know-how for all the relevant technologies – including hydrogen – and all the tasks involved is combined.
A great many requirements had to be harmonized in the course of the project. One was to ensure that the H2ICE drivetrain fit in the same space envelope as its diesel equivalent, to ensure the Atego platform did not lose its flexibility, which allows numerous different superstructures to be built on it. Another aspect was safety. Here, EDAG was able to put its extensive simulation expertise to good use to guarantee the intrinsic safety of the hydrogen installation. At the same time, it was necessary to ensure that the valves and lines, for example, were protected but still accessible for servicing. Procurement and product selection were also important aspects, as there are a great many new suppliers in the hydrogen sector, the function and reliability of whose components must first be tested.
The result was a demonstrator for a modular plug & play solution , which can be integrated quickly and easily. One of the central elements of this are the hydrogen tanks – developed in-house by NPROXX and assembled and tested by EDAG. This enables H2ICE technology to be transferred to existing platforms , making it the ideal bridging technology for bringing about a relatively effortless move to zero-carbon solutions.
If you are interested in finding out further details, or would like to discuss your own projects, please contact Martin Jatzek (Dipl.-Ing.), project manager in the Energy Systems and Drivetrain department and manager of the demonstration vehicle project at EDAG. Or download our white paper "Converting a Mercedes Diesel Truck into a CO2-Neutral Vehicle" here.