The relevant part of an electric vehicle's energy flows in the high-voltage network: battery, drivetrain and regenerative brakes determine the distance that an electric car can actually cover on a single charge. Nevertheless, power consumers in the low-voltage network should not be forgotten. As EDAG shows, intelligent hardware and software control can save up to a third of the energy these consumers need, extending the range by 10 or even 20 kilometers.
Will I be able to get home, or will I have stop somewhere and charge the battery? Can I reach the fast charging station, or is there only enough power to get me to the next charging point? The main task of energy management is to limit power consumption so that sufficient range is available and drivers of electric cars do not find themselves confronted by unpleasant surprises. Though it is true that they can manage their energy consumption within certain limits by adapting their driving speed and style, the equipment, which features numerous electrical power consumers, also affects the amount of energy available. People are not always aware of these consumers, nor can they easily be switched off.
What can most easily be dispensed with?
The solution lies between the conflicting poles of "what is possible?" and "what is necessary?", in other words: how much energy is still available, and how much is needed. This last point alone demonstrates that this is not a trivial problem. After all, it is not just a matter of how much energy is currently needed, but also a question of future requirements. To deal with this, an energy management system must receive a great deal of information.
This starts with the operating state of the vehicle, with a distinction being made between driving, parking and idle times. There are also further gradations within each category; in drive mode, for example, whichever driving program (Eco, Comfort, Sport) has been selected. Other influencing variables include the battery's state of charge (SOC), vehicle load and the resulting axle loads, or the outside temperature, which can affect both the battery's performance and whether consumers such as windshield heating, air conditioning and ventilation systems are needed.
Another question concerns the general controllability of individual consumers. This calls for not only a new vehicle architecture and intelligent components, but also specially developed hardware. For its energy management solution, EDAG has divided consumers into five classes, according to which they are controlled by hardware and software:
Category 1: Pure comfort functions, for instance radio receivers, seat heaters or on-board smartphone charging;
Category 2: Advanced comfort features, for instance automatic seat and steering wheel adjustment, interior lighting and air conditioning system;
Category 3: Basic functions, for instance power windows, backlighting of the controls, light and rain sensors;
Category 4: Existential functions, including low and high beam lights, door closing mechanism, or the onboard unit for toll collection;
Category X: Safety-relevant control and auxiliary units, for instance brake boosters and power steering.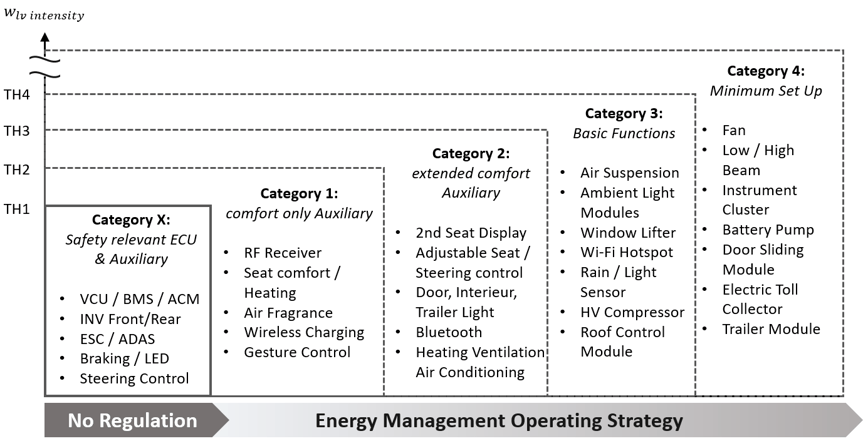 Graduated categories allow consumers to be placed in order of priority, according to which they can, if necessary, be completely disconnected from the energy source by the intelligent energy management system. This happens in just a few milliseconds(<100 ms).
For category X, an uninterruptible power supply must always be ensured. The functionality of category 4 consumers should be also ensured, even if the battery level is very low. They can, however, also be temporarily throttled or provided with a warning function. Unlike category X, failure of these consumers does not automatically lead to a switch-over to an emergency program.
Further priorities can be set within each category. Generally, every car manufacturer can adapt the categories to its own individual design and safety strategies. As a rule, however, drivers should always be given the chance to override energy-motivated system interventions.
Optimizing consumption
Once the priority with which the respective power consumers are to be operated has been defined, it is necessary to check what maximum electrical power is available at a given time, and what system load this is set against. In the past, the target value for the maximum permissible power requirements (Pmax_target) was given as a constant or as a fixed value, depending on the driving mode.
With the intelligent energy management developed by EDAG, on the other hand, this target value is far more flexible, and might depend, for instance, on the distance still to be covered, which is taken as the destination in the current route planning, or, for example, by evaluating wide-ranging factors in the cloud, with the results being transmitted to the vehicle. If the target value differs from the measured intensity of energy consumption, the energy management system intervenes, working on the basis of the priorities set. As the target value is also being continuously redefined here, it reacts dynamically to the current situation.
In order to ensure that the limit defined for the maximum power requirements is not exceeded, several energy management measures that build upon one another are possible. During the first stage, only adaptive applications on individual control units are paused or stopped. At the next level, complete control units, or even complete branches of a power network, can be controlled. In a fully developed energy management system, individual functions and their energy requirements can then be specifically controlled. Depending on what technical possibilities are available, the component is instructed to reduce or stop operation, or the power supply has to be capped. However, the latter always affects all the components in a sub-network.
This concept is realized using software and specially developed hardware, unless the hardware integrated already meets all requirements. To this end, EDAG is already involved in the development process between OEM and Tier X partner at the product mission and conception phase levels.
Successful Practical Tests
The optimization concept presented has been validated by EDAG in a practical test. For this purpose, the power requirement of a low-voltage electrical system in an electric vehicle with the new electrics/electronics architecture (E/E architecture) was measured in real road traffic. The results speak for themselves: It was proved that the individual release of the components by the intelligent energy management system led to a reduction in the average power consumption. The energy consumption was reduced by about 130 watts, or a third of the original value of 402 watts, to 270 watts. Converted to the vehicle's range, which was originally 450 km in the WLTP cycle, an increase of between 10 and 20 km can be assumed - without any loss of comfort.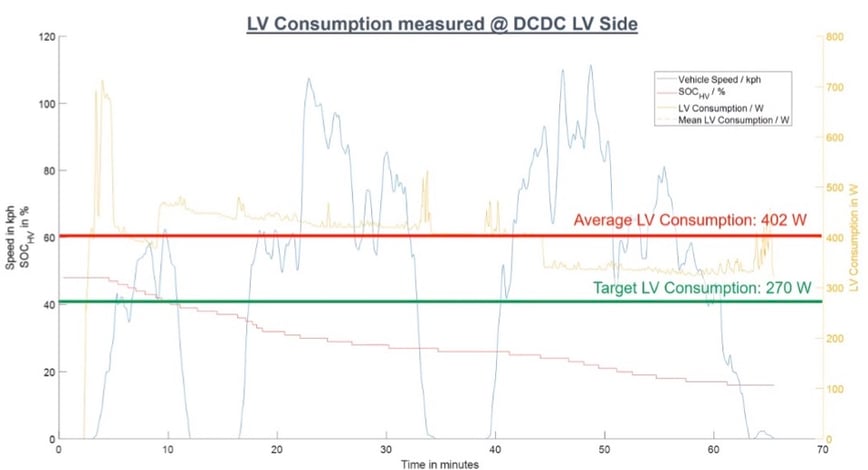 The energy requirement is measurably lower during the test drive - adding extra kilometers to the range.
Besides this, a further aspect of the optimizations implemented became apparent. Introducing upper limits for the energy consumption of the overall system helped to reduce the power requirements of individual control units and components, including the DC/DC converter between the low-voltage and high-voltage vehicle electrical systems. As a result of the smaller dimensions, operation was avoided in low load ranges, which are characterized by high efficiency losses. This, too, contributes to an increase in the energy efficiency of the overall system.
The Future of Energy Management
As a general rule, the intelligent energy management system outlined here is hardware-independent. It can therefore be installed in both classic E/E architectures based on multiple controllers, and in zone architectures or even in a solution based on a central high-performance computer (HPC). Certain requirements must, however, be met, and these call for intelligent hardware. If this is not available, it can be retrofitted using an in-house development. What is more, the system is open to further dynamization of the control concept based on other criteria. This might be long-term requirements planning, with regard, for instance, to high power consumers such as heating and air conditioning.
A further level of predictive energy management is achieved with the integration of electric vehicles into the smart grid; in other words when, by means of bidirectional charging together with stationary storage units and a higher-level energy management system, the vehicle battery serves as a "virtual power plant" in the power grid. Supplying power and drawing electricity from the grid at times of peak demand or excess supply helps to stabilize the grid, and constitutes a monetary added value. However, whether or not the vehicle is ready for use must then be very precisely calculated. As the EDAG specialists see it, it is not unreasonable to already be considering this development stage of energy management, even if the automotive industry is currently still working intensively on the implementation of an intelligent energy management system in the vehicle electrical system.
Benjamin Mangold, Head of EDAG Engineering's EA Department, will be happy to report on EDAG's further developments in intelligent energy management, and answer any other questions. You can also download the white paper "Energy Management 4.0", in which EDAG's system-oriented approach with the four evolutionary stages of energy management is explained in detail.