In the age of digitalisation, modern production needs to be even more efficient, intelligent and flexible. Robots have become indispensable in manufacturing to the 21st century .
And yet, not everybody feels the same fascination and enthusiasm for the skills of these "colleagues". Other considerations are often outweighed by the fear of being replaced by the robot. The fact is, however, that human-robot collaboration (HRC) is often essential to deal with the requirements of the modern working and production world.
May we introduce this team to you in more detail?
The idea that robots are not just entertaining but can also be useful is by now a well-established fact, both in the production environment and in everyday life. Many households have robots to help with everyday life, for instance vacuum cleaners or automatic lawn mowers that travel around the garden in all weathers to the create the perfect lawn. In industrial situations, machines are taking over more and more complex tasks, supporting people rather than posing a threat to them.
Anyone who has already worked with a robot fully appreciates the advantages. Human-robot collaboration (HRC) is an enrichment for everyone, and exactly what is needed to do away with the rigid boundaries in today's working world. And there seems to be practically no limit to the possible applications.
You are sure to have plenty of ideas about the work a robot could do for you every day. Obediently taking out the rubbish or, like R2-D2, briskly taking over small tasks in the role of a mechanic.
The robot technology experts at EDAG Production Solutions were inspired by just these thoughts – the idea of man and robot working together as colleagues in the office – and, building on this, developed the concept of the coffee-making robot. On being given an initial command, the robot acts autonomously, prepares a cup of coffee, taking into account the choice of cup and how much milk and sugar you want, then serving the piping hot drink at your desk.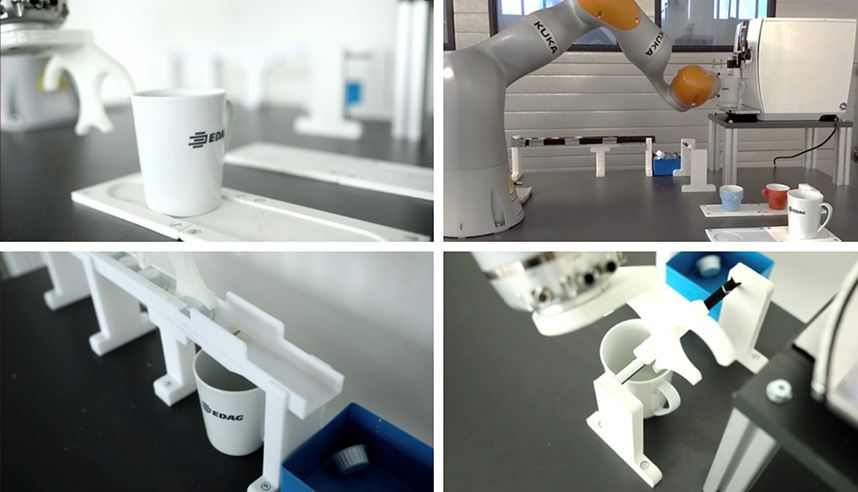 Figure (from top left to bottom right): Detecting and aligning handle, operating coffee machine, adding milk and sugar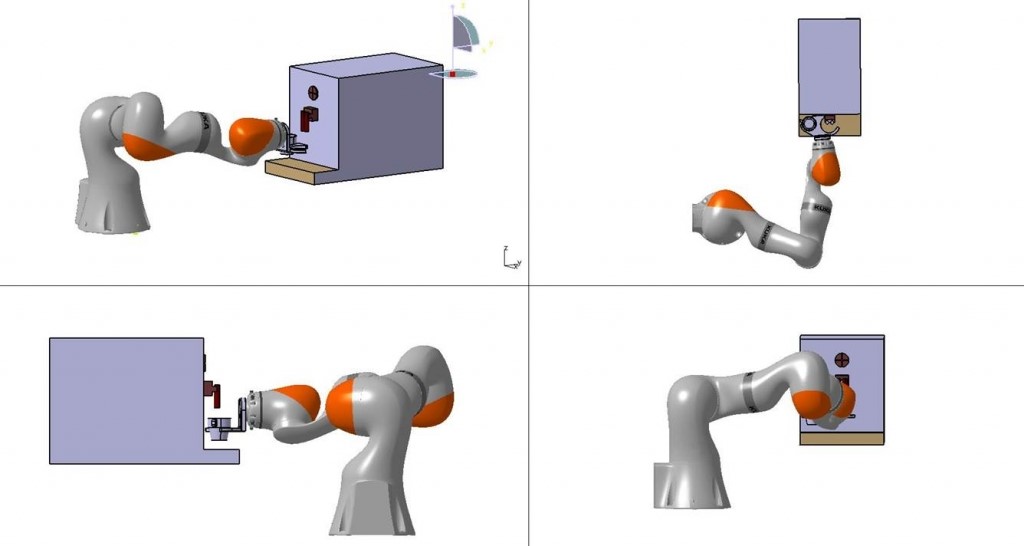 Machine-made coffee, coffee from the machine
A strong team in all production situations
Simply touch to interrupt the coffee-making process at any time, should anything go wrong. But the same also applies to the industrial production process, and this means that it is possible for human and robot workers to work hand in hand. Without safety fences, without restrictions.
The seemingly banal example of the coffee-making robot does, however, make one thing very clear: In human-robot collaboration, the human is assisted – not replaced – by the robot. It forms a team with the human, complementing his abilities and doing some of the work (e.g. moving or delivering heavy loads) for him. This division of labour brings about greater efficiency. And of course this also applies to dozens of other situations. The robot's motor sensitivity complements the human's rationality and experience. Endurance and the ability to repeat the same movements with great precision are strengths of the machine. Thanks to the ergonomic advantage of the robot colleague, workers can be involved regardless of their age or physical condition. In the field of assembly in particular, it is possible to save costs and working time, while at the same time improving quality and increasing output. The result: a flexible production process.
When integrating a collaborative robot into an existing process, robot technology knowledge is combined with production planning skills and implemented within the framework of the relevant safety standards. And this is exactly where EDAG Production Solutions' strength lies.
Specialists from all engineering disciplines work together here to realise specific customer requirements. They combine technical skills, creative curiosity and practical experience to create fertile ground for just such innovations.
Man and machine - a team, come what may
With HRC systems, special safety precautions must be observed and followed, e.g. upper limits for force and pressure. The sensitive robot systems which were developed, among other things, to collaborate with people, have such motor sensitivity that they register touches, no matter how light or intense, and react instantly.
In spite of all the advantages, including sensitivity and cautiousness when interacting with humans, a reduced workload, support and many other possibilities arising as a result of using the robot, there is still sometimes a lack of acceptance for HRC solutions. One reason for this could be the fear that HRC robots might stop being partners, turn into competitors, and replace humans in the workplace.
With this in mind, our robot technology experts, whose work is always geared to practice, evaluate the possible applications of the sensitive robots directly in the factories. There, they analyse the production workplaces and, join forces with the customers to look for ways in which the smart teams could be used to improve and support existing processes.
Pliable components: this calls for teamwork
EDAG Production Solutions frequently focuses on areas relating to lightweight robots and human-robot collaboration. Our mission: to bring assembly processes into the 21st century!
Particularly when it comes to the assembly of pliable components such as cable harnesses and hoses, and deforming these without applying too much force, adaptivity is vitally important – previously one of the core competencies of human labour.
Component assembly is a good example of successful HRC. The components can be stable or even pliable. We would therefore like to give you an example of a test in which pliable components were assembled by automated means.
General automation usually involves stable components with fixed positions, at which the component can be picked up, deposited and processed. They cannot be changed and cannot change themselves.
But what happens with a component made of soft rubber, and not stable sheet metal? How do you deal with the fact that the geometry of the component is constantly changing and the fixed positions are suddenly worthless?
For this reason, only dimensionally stable, metal materials are processed by robots in the body assembly shop. By contrast, very few robots are found in the assembly of pliable components. This includes, for example, fitting seals, belts, covers and fabric trims, positioning foot mats, or plugging connectors at the end of cables into the appropriate sockets.
If we were able to install pliable components by automated means, it would be possible to automate an area in which all activities are today still carried out manually.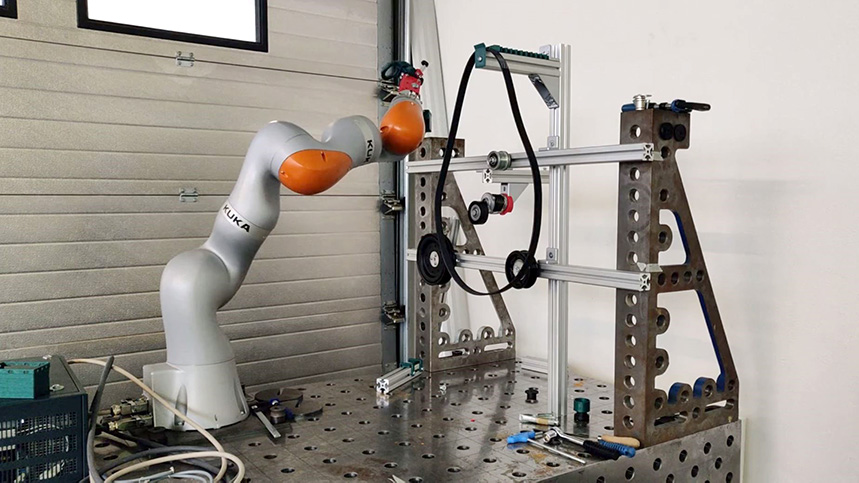 EDAG Production Solutions test laboratory in Sindelfingen
Our robot technology experts, whose work is always geared to practice, evaluate the possible applications of the sensitive robots directly in the factories. There, they analyse the production workplaces and, join forces with the customers to look for ways in which the smart teams could be used to improve and support existing processes.
In production, a well designed HRC can significantly optimise the process flow. You can, of course, also think about other possible uses, and perhaps even consider using our coffee-making colleague in the office.
Do you want to see the innovative potential of the robot colleague for yourself, and know how to prepare for the future standards of Industry 4.0? And are you looking for new forms and possibilities for your production processes? Or do you want to make use of intelligent workplace concepts to improve the quality of your product and ease your employees' daily workload? Thomas Franke, our project manager in simulation engineer robotics, will be happy to help you to sum up your requirements, to find the best human-robot team for your applications.